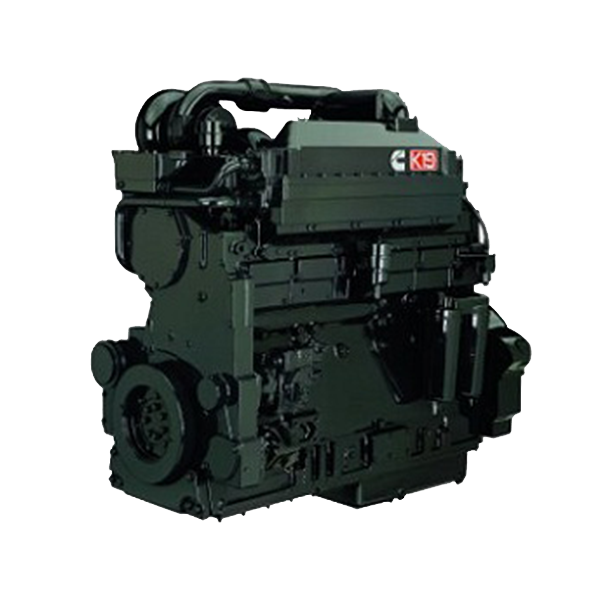 Power
450 - 700
hp
336 - 522
kW
Torque
1125 - 1214
lb-ft
1525 - 1646
N•m
Overview:
The K19 is proof that dependable high-horsepower performance can be delivered in a compact package.  The clean, efficient inline six-cylinder K19 engine design has been in Cummins product line for over 30 years delivering the lowest total cost of ownership while providing maximum productivity and durability.  With ratings from 450 hp to 700 hp (336 – 522 kW), K19 engines have proven performance with the mechanical simplicity of Cummins PT® fuel system. 

Features such as full-authority Cummins CENTRY™ electronic controls provide engine monitoring and automatic timing adjustment for peak performance and fuel efficiency and CENSE™, an electronic monitoring package for increased uptime. 

The robust K19 design is based on the K50 to provide greater durability in high load mining applications such as haul trucks, excavators, blast hole drills & wheeled loaders.  Its simple fuel system and robust mechanical design lends itself to low maintenance requirements to deliver the lowest cost-per-ton for most mine sites worldwide. 

No matter what mining job you have to do – the K19 is designed to work as an integral part of your equipment to provide the lowest cost per ton moved.

The base warranty includes full coverage on K Series engines and branded components, including electrics such as starters and alternators for unlimited hours during the first year of operation, extending through 2 years or 2,000 hours (whichever comes first). The base warranty also includes 3-year/10,000-hour standard protection on major components.  Extended coverage is available with our Encompass protection plans with the flexibility to meet the needs of your mining operation.  Cummins Encompass has you covered, around the clock and around the globe. 

Cummins combines proven performance with advanced technology and a global service and support network with a hard-earned reputation for responding to every need, at every hour of every day.