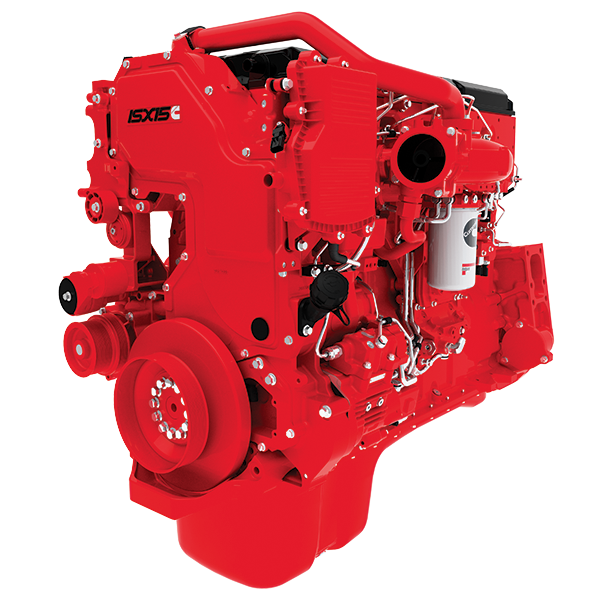 ISX15 for Motorhome (2013)
Power
550 - 600
hp
410 - 447
kW
Torque
1850 - 1950
lb-ft
2508 - 2644
N•m
Overview:
Beyond Every Expectation.

For customers wanting the ultimate in performance from their premium motorhome, the engine of choice is Cummins ISX15 – the most popular heavy-duty engine sold in North America.  It is rated at up to 600 horsepower and 1950 of peak torque, making it ideal for even the largest,most heavily equipped units.

Its XPI fuel system delivers a precise quantity of fuel at ultra-high pressures. This allows multiple injection events per cycle. This, together with enhanced turbocharging and reduced power demand from external engine components delivers the ultimate combination of industry-leading fuel economy along with quiet, smooth acceleration. Best-in-class braking (up to 600 bhp) is accomplished through the Cummins Intebrake, which delivers greater vehicle control while reducing service brake wear.

The ISX15 maintenance schedule has been significantly improved over the last decade, with oil and oil filter changes, valve adjustments and fuel filter changes now recommended at twice the mileage of our 2010 engine. This, together with an increase in fuel economy of up to 2 percent, lowers total operating costs over the life of your motorhome.

Plus, when it's time to trade up to a newer model, Cummins-powered motorhomes deliver traditionally higher resale value.

A Cummins-designed and manufactured aftertreatment system is fully integrated and now includes on-board diagnostics that continuously monitor engine and aftertreatment performance to ensure near-zero emissions.

All of this is backed by unmatched support, from the largest service network in North America. This includes exclusive programs like Coach Care™ and 24/7/365 assistance from your Cummins Care representatives at 1-800-CUMMINS.

For Cummins-branded merchandise, electronic tools, literature and more, visit the Powerstore.