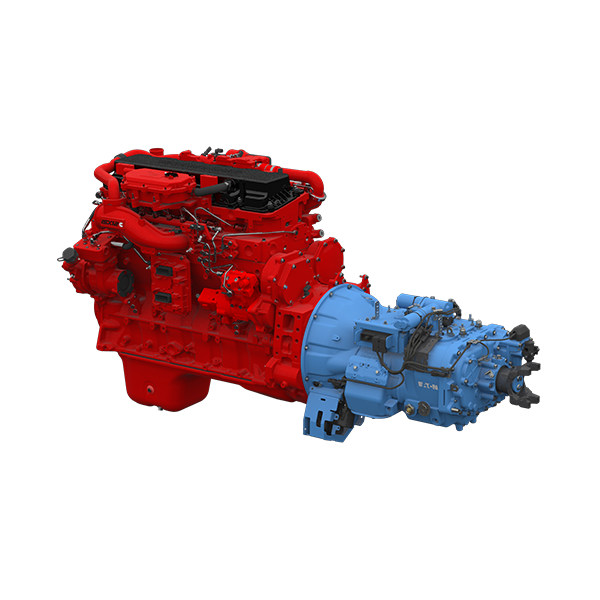 ISX12 SmartAdvantage™ Powertrain - HD Truck (2013)
Power
425 - 425
hp
317 - 317
kW
Torque
1350 - 1650
lb-ft
1830 - 2237
N•m
Overview:
ISX12 SmartAdvantage™ Powertrain
The Smart Way To Get A 2-4% Fuel Economy Advantage.

The ISX12 SmartAdvantage™ Powertrain takes the power of the Cummins ISX12 engine with SmartTorque2 (ST2) and combines it with the smooth shifting of the Eaton Fuller Advantage® 10-speed automated transmission for improved fuel economy. The engine and transmission share critical data, determining the torque required to deliver the power level that drivers need. Error-free, guessproof shifting makes every driver in your fleet as efficient as your best driver.
Cummins ISX12 with SmartTorque2
Building upon the proven technology and performance of the ISX15 SmartAdvantage Powertrain, we are now offering the ISX12 with SmartAdvantage. This powertrain is a perfect choice for regional haul applications and day cab operators who want smooth performance, proven reliability, and reduced operating costs. This fully-integrated package delivers 2-4% better fuel economy while achieving near-zero emissions with the Cummins Aftertreatment System.
The ISX12 with SmartTorque2 (ST2) is available exclusively with the SmartAdvantage™ Powertrain. Higher torque is delivered earlier in the rpm range so you can cruise at 1250-1340 rpm and still get the torque and power needed to match real-time load demand. Fuel economy is improved through the combination of downspeeding, optimized communications between the engine and transmission, and the effective use of direct drive. These advanced technologies make it easier for drivers to operate within a larger "sweet spot" for better fuel economy. The 425hp (317kW) rating includes proprietary SmartTorque2 as well as Vehicle Acceleration Management.
SmartTorque2 automatically senses vehicle weight, grade and operating gear, then selects the optimum torque for the best fuel economy and performance in every gear. Whether you are driving up a hill, merging onto the highway or passing slower traffic, the SmartAdvantage Powertrain provides the power you need, when you need it.
Cummins Vehicle Acceleration Management (VAM) is a unique electronic feature that is automatically enabled in Cummins ISX12 engines in the SmartAdvantage™ Powertrain. It assists with the acceleration rate from the launch of the vehicle, maintaining more consistent acceleration due to a more efficient transition through the gears. VAM results in a smoother acceleration experience for the driver and reduced driveline wear, while increasing fuel economy.
Eaton Fuller Advantage 10-Speed Automated Transmission
New features of the Eaton Fuller Advantage 10-Speed Automated Transmission include the strategic use of lightweight components and Precision Lubrication. Small-step technology enables downspeeding in overdrive and efficiency in direct drive. Optimized shifting is based on grade, vehicle weight, engine torque and throttle position.

Fuel economy is further enhanced through precision lubrication. Precision lubrication technology reduces churning losses, and eliminates the need for a cooler in most applications, for reduced weight and increased reliability.

For additional details about Eaton's Fuller Advantage 10-Speed Automated Transmission, visit roadranger.com/smartadvantage.