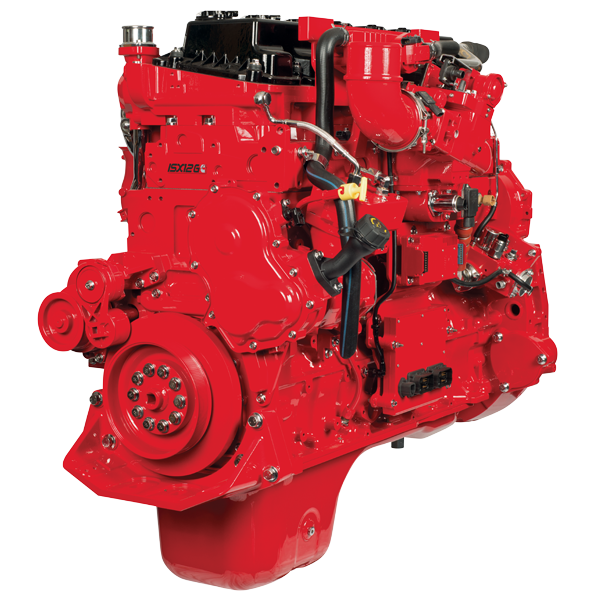 Power
320 - 400
hp
239 - 298
kW
Torque
1150 - 1450
lb-ft
1559 - 1966
N•m
Applications
Heavy-Duty Truck
Natural Gas Engines
Available Regions
US and Canada,
Russia,
Africa & Middle East,
Mexico,
Philippines,
Singapore,
Brazil,
Bolivia,
Uruguay,
Paraguay,
Argentina,
Colombia,
Central America,
Europe,
Japan,
Korea
Overview:
The ISX12 G natural gas engine delivers the strong pulling power and heavy-duty durability required for regional-haul truck/tractor, vocational and refuse applications. It features Stoichiometric cooled Exhaust Gas Recirculation (SEGR) combustion technology, which allows the use of a maintenance-free Three-Way Catalyst (TWC). Ratings range from 320 hp to 400 hp (239-298 kW) with 1450 lb-ft (1966 N•m) of peak torque. The inherent efficiency of this engine and an abundant supply of natural gas reduce operating costs, making the ISX12 G the natural choice for your fleet.
Dedicated Factory-Built Natural Gas Engine.
The ISX12 G is a dedicated, factory-built natural gas engine that is based on the Cummins ISX12 diesel engine. The ISX12 G shares many of the same parts and components as its diesel counterpart, and it operates on 100 percent clean-burning, low-cost natural gas. The ISX12 G meets current U.S. Environmental Protection Agency (EPA) and California Air Resource Board (ARB) emissions standards, and 2014 EPA greenhouse gas (GHG) and U.S. Department of Transportation (DOT) fuel consumption regulations.
The ISX12 G is a great choice for mixer, dump truck and refuse applications, with a high power-to-weight ratio and 700 lb-ft (949 N•m) of clutch engagement torque. Four refuse ratings, as well as Front Engine Power Take Off (FEPTO) and Rear Engine Power Take-Off (REPTO) options, offer power and flexibility for a wide variety of vehicles.
The ISX12 G is also the natural choice for regional-haul and LTL distribution operation trucks and tractors. Five ratings from 320 hp to 400 hp (239-298 kW), engine braking, and manual or automatic transmission capability provide trucking customers with the performance to meet fleet requirements, and the flexibility of using either compressed natural gas (CNG) or liquefied natural gas (LNG).
Advanced Combustion Technology.
The ISX12 G uses SEGR combustion with spark ignition to create a high-performance, heavy-duty natural gas engine. The cooled-EGR system takes a measured quantity of exhaust gas and passes it through a cooler to reduce temperatures before mixing it with fuel and the incoming air charge to the cylinder. SEGR results in improved power density and fuel economy versus traditional stoichiometric or lean-burn natural gas engines. This technology also enables the use of a TWC for emissions control.
Maintenance-Free Aftertreatment.
TWCs are effective, simple, passive devices packaged as part of the muffler. They provide consistent emissions control performance, are maintenance-free and can be mounted vertically or horizontally on the vehicle. The ISX12 G requires no active aftertreatment such as a Diesel Particulate Filter (DPF) or Selective Catalytic Reduction (SCR).
Natural Gas – The Fuel Choice Is Yours.
The ISX12 G operates on 100 percent natural gas, which can be carried on the vehicle in either compressed or liquefied form (CNG or LNG, respectively). The ISX12 G can also run on renewable natural gas (RNG) made from biogas or landfill gas that has been upgraded to vehicle fuel-quality. A variety of CNG and LNG tank configurations are available to meet range requirements. Consult your vehicle manufacturer for details.


Considering a Cummins engine purchase? For more information including pricing and additional technical information, please contact your Cummins representative. If you need help finding a representative, the Cummins Sales and Service Locator tool can help.