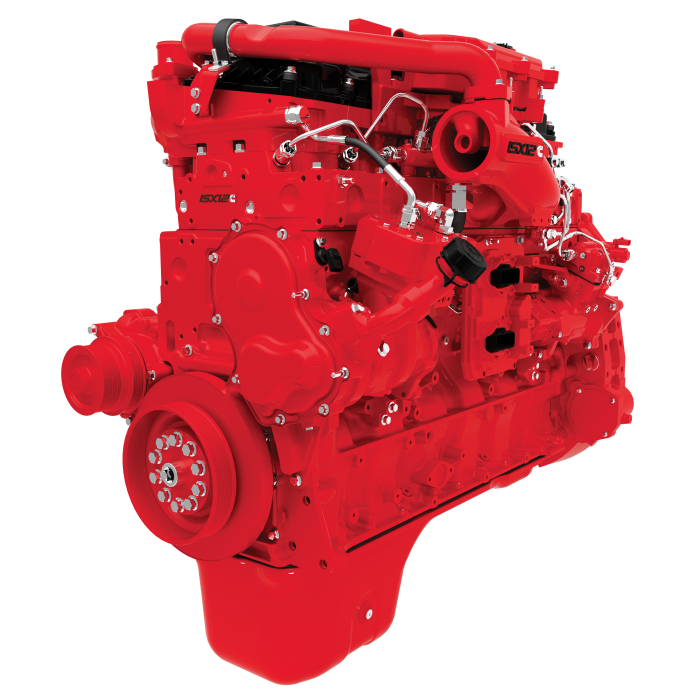 ISX12 for Heavy-Duty Truck (2013)
Power
310 - 425
hp
231 - 317
kW
Torque
1150 - 1650
lb-ft
1559 - 2237
N•m
Overview:
Cummins ISX12 is making a huge impact in work trucks of all types, from mixers and dumps to day cabs and LTL operations. It combines the strength and reliability of proven technology from the ISX15 with a high power-to-weight ratio and over 800 lb-ft (1085 n•M) of clutch engagement torque. The ISX12 is ideal in operations calling for a compact, heavy-duty engine.
Better Fuel Savings.
We've refined the 2013 ISX12 to deliver up to 2% better fuel economy versus the 2012 ISX12 while meeting 2014 Greenhouse Gas (GHG) and fuel efficiency regulations a full year ahead of schedule. With the amount of fuel saved, ISX12-powered trucks meet demanding performance standards while providing significant savings through a lower total cost of operation. The 2013 ISX12 is equipped with On-Board Diagnostics (OBD) which monitors and ensures optimal performance of the emissions system, using a system proven in thousands of vehicles since 2007.
Better Performance.
ISX12 vocational ratings from 320-425 hp (239-317 kW) are engineered to provide additional torque in the lower gears where it's needed most. We offer multiple options, including front- and rear-mounted power take-off (FEPTO and REPTO) and several hydraulic drive options. This versatility makes the ISX12 ideal for rear- and front-pouring mixers as well as dump trucks and refuse haulers.
For LTL and daycab trucks we offer standard ratings from 310 hp to 425 hp (231-317 kW) with engine software configurations that deliver the precise combination of fuel economy and performance to meet regional and LTL fleet needs. SmartTorque ratings provide an additional 200 lb-ft of torque in the two top gears, so drivers can climb steep hills with fewer downshifts.
Better Coverage For Better Confidence.
Base engine warranty coverage for the ISX12 includes parts and labor on warrantable failures for both the engine and aftertreatment system with no deductible. Cummins base engine warranty coverage is good for 2 years/250,000 miles (402,336 km). Engine extended coverage plans are available with options up to 7 years or 500,000 miles (804,672 km). Extended coverage plans are also available for the aftertreatment system and major components. Check with your Cummins distributor or dealer for details. For additional technical information for engine owners, please visit Cummins Quickserve Online.

Considering a Cummins engine purchase? For more information including pricing and additional technical information, please contact your Cummins representative. If you need help finding a representative, the Cummins Sales and Service Locator tool can help.