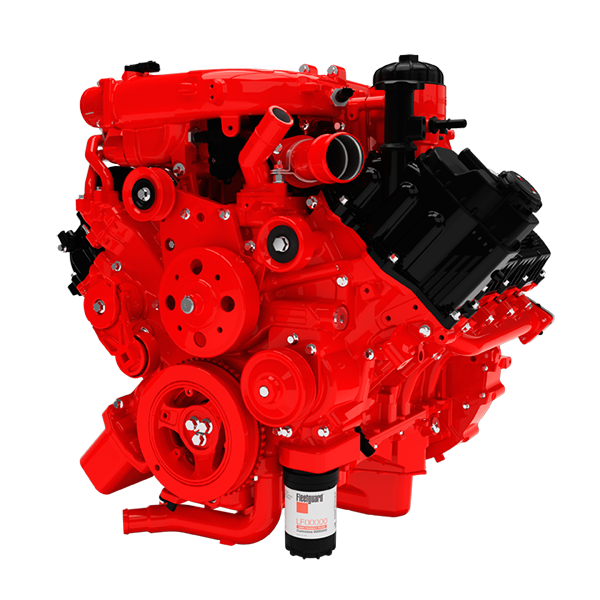 ISV5.0 for Medium-Duty Truck
Power
200 - 275
hp
149 - 205
kW
Torque
520 - 560
lb-ft
705 - 759
N•m
Overview:
Cummins ISV5.0 goes beyond the traditional diesel attributes of horsepower, torque, reliability and durability to deliver the next dimension of performance. Cummins global diesel design expertise has combined advanced materials, the latest High Pressure Common Rail (HPCR) fuel system, Cummins VGT Turbocharger and Cummins emission control technology to produce an extraordinarily clean, quiet and fuel-efficient V8 diesel engine. The ISV5.0 is ideally suited for pickup and delivery vehicles, school buses, light- and medium-duty trucks and motorhomes. And Cummins commitment to service support has never been stronger. That's taking total performance to the next dimension.
Better Fuel Economy. Big Savings.
Switching from a gasoline V8 to the Cummins ISV5.0 V8 diesel significantly reduces your cost of operation, as diesel fuel economy is typically 20-40% better than a V8 engine of comparable performance. The ISV5.0 combines the latest in Cummins combustion technology, with advanced weight-saving components that include a compacted graphite iron (CGI) block, and high-strength aluminum alloy head and composite valve covers. The high power-to-weight ratio of the ISV5.0 helps you get the most out of every gallon of fuel.

Proven Technology With A Clear Advantage
The ISV5.0 utilizes Cummins advanced technology that has been proven effective and reliable in the toughest on-highway applications. This includes a HPCR fuel system, dual overhead camshafts and the Cummins VGT™ Turbocharger. The Aftertreatment System from Cummins Emission Solutions is fully integrated with the engine to deliver optimum fuel economy and near-zero emissions. The ISV5.0 will be certified to the near-zero NOx and PM emissions levels required by the U.S. Environmental Protection Agency (EPA) and will also meet 2014 GHG requirements an 2013 Air Resources Board (ARB) standards including on board diagnostics.

Considering a Cummins engine purchase? For more information including pricing and additional technical information, please contact your Cummins representative. If you need help finding a representative, the Cummins Sales and Service Locator tool can help.