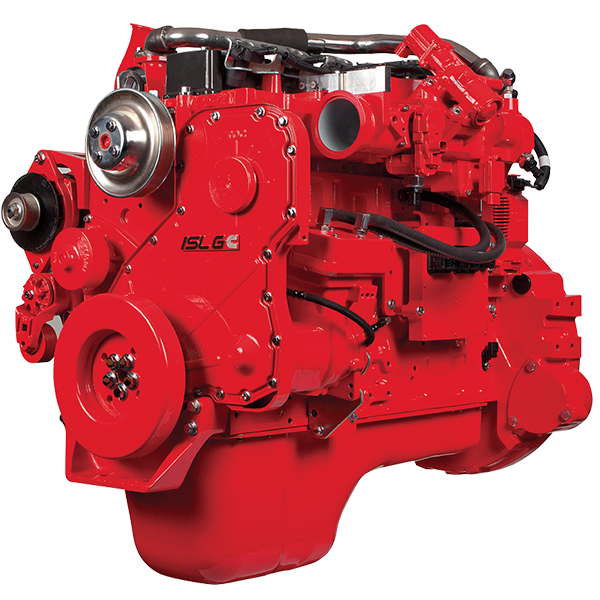 ISL G for Euro Truck & Bus
Power
247 - 316
hp
184 - 236
kW
Torque
730 - 1000
lb-ft
990 - 1356
N•m
Overview:
The ISL G is the natural choice in alternative-fuel engine technology. With industry leading performance, it combines all the advantages of clean burning, low cost natural gas with "no compromises" in power and torque. It moves to Euro 6 emissions with minimal changes from Euro 5, making it ideal for alternative fuel bus and truck applications.
The ISL G engine block is shared with the Cummins ISL diesel – a full skirted block for increased rigidity and strength. The design provides superior piston ring and bearing life, improved coolant flow and targeted piston cooling, for greater reliability and superior durability. The engine's life to rebuild and rebuildability are similar to those of diesel engines. The 8.9 litre ISL G uses advanced stoichiometric combustion with cooled Exhaust Gas Recirculation (EGR) to meet ultra-low emissions requirements. The cooled-EGR system takes a measured quantity of exhaust gas and passes it through a cooler to reduce temperatures before mixing it with fuel and the incoming air charge to the cylinder. This lowers combustion temperatures and knock tendency, reducing engine out emissions and noise. With a pedigree of over 1 million engines to date, Cummins cooled EGR technology is proven in a wide range of installations.
Stoichiometric combustion is the ideal combustion process where all fuel and oxygen is completely consumed. This means that no unburned fuel or oxygen exits through the exhaust. Combined with cooled EGR it improves power density and fuel economy to create a high performance natural gas engine. It also enables the use of simpler, lower cost exhaust aftertreatment systems. Since its introduction for EPA 2010 and Euro 5 emissions, thousands of truck and bus customers have noticed the impressive low-end torque, transient response and quiet operation of the ISL G. Compared with previous Cummins lean-burn natural gas engines, ISL G torque at idle is improved over 30 percent, and fuel economy is improved by up to 5 percent.
For Euro 6, all of the benefits designed for Euro 5 are carried over, with minimal engine changes required.