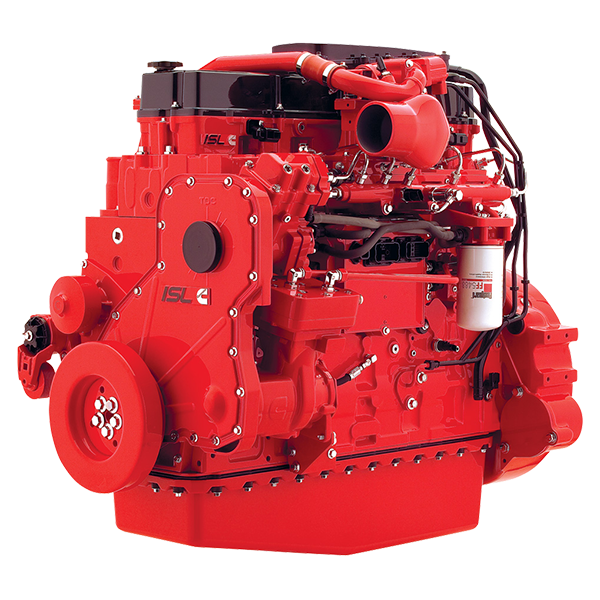 ISL for Motorhome (EPA 07)
Power
370 - 425
hp
276 - 317
kW
Torque
1200 - 1200
lb-ft
1627 - 1627
N•m
Available Regions
US and Canada,
Russia,
Africa & Middle East,
Mexico,
Philippines,
Singapore,
Brazil,
Bolivia,
Uruguay,
Paraguay,
Argentina,
Colombia,
Central America,
Europe,
Japan,
Korea
Overview:
Cummins ISL has the ideal performance for larger, luxury motorhomes. With ratings from 370-425 hp, it has the power to accelerate, at any speed. 1200 lb-ft of peak torque lets you climb steep grades even when towing. The ISL also has a very stout engine brake which provides greater peace of mind on those steep downhill runs. Plus, the engine braking capacity reduces wear on your service brakes, lengthening service intervals and saving you money. And with 20,000-mile (32,000 km) oil change intervals, the ISL makes your maintenance budget go farther.
The ISL was developed to optimize every aspect of the engine's operation utilizing Cummins comprehensive in-house design approach to every engine system from the air intake to the exhaust system. Integration of Cummins advanced electronic controls, VG Turbo, high-pressure fuel system, combustion technology and exhaust aftertreatment is how the ISL delivers on the performance and value expectations of the motorhome owner. And the ISL does it while being certified and compliant to the toughest standards, the 2007 EPA emission regulations.
Plus, you get exclusive Cummins programs like Coach Care™ to meet your service needs as you travel across North America in your motorhome. All backed by the most extensive customer support network in North America.
For Cummins-branded merchandise, electronic tools, literature and more, visit our PowerStore web site.