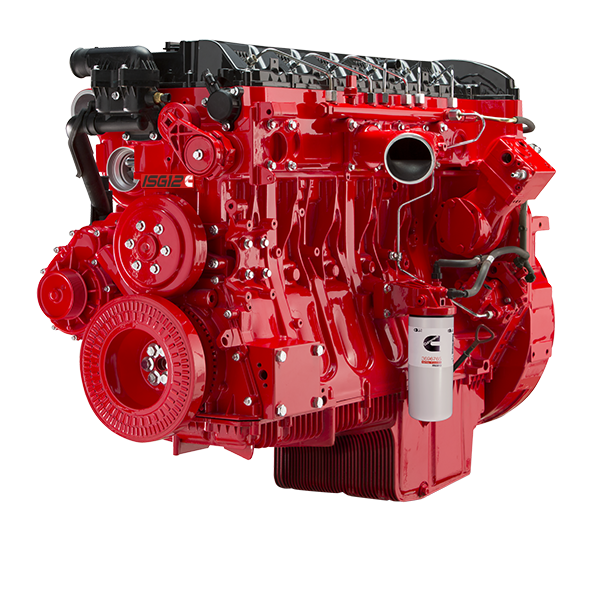 ISG12 Euro IV/V (Export markets)
Power
350 - 500
hp
261 - 373
kW
Torque
1328 - 1696
lb-ft
1801 - 2299
N•m
Applications
Euro Truck and Bus
Fire and Emergency
Heavy-Duty Truck
Motorcoach
Oil and Gas Engines
Available Regions
US and Canada,
Russia,
Africa & Middle East,
Mexico,
Philippines,
Singapore,
Brazil,
Bolivia,
Uruguay,
Paraguay,
Argentina,
Colombia,
Central America,
Europe,
Japan,
Korea
Overview:
The G Series minimizes engineering requirements for vehicle and equipment manufacturers with a common, compact installation envelope. A key design focus for the G Series has been to achieve significant weight savings in order to increase the power-to-weight ratio. A sculptured block retains high rigidity while removing unnecessary mass. The use of composite material for the oil pan and valve cover provides further weight savings. With this innovative approach, the G Series achieves a remarkably low engine weight of just 1,900 pounds (862 kg) while retaining all the structural strength and durability expected of a Cummins Heavy-Duty engine.
The G Series incorporates Cummins Xtra-High Pressure Injection (XPI) fuel system, derived from the larger and more powerful X Series engine. With multiple injection events driven by high-precision Cummins electronic controls, the XPI fuel system contributes to a very impressive peak torque for the G Series of nearly 1700 lb-ft (2300 N•m), together with a torque rise as high as 60 percent available. These attributes enable the G Series to deliver exceptionally fast response to increasing load factors from low engine rpm.

The G Series offers fuel efficiency through parasitic reducing technology without variable-flow pumps that add unnecessary cost and reduce reliability. Its Single Cam In Head (SCIH) design with roller valve train and high-efficiency intake ports continues the design theme of minimum complexity and maximum efficiency. The resulting low-weight design allows more payload to be delivered while requiring less energy to manufacture than competitive designs.

The ISG12 is the ideal power solution for Heavy-Duty trucks in long-haul, regional-haul and vocational service, as well as buses, motor coaches, fire trucks and recreational vehicles. This engine offers a power range from 350 hp to 500 hp (261-373 kW) in a compact and lightweight package. The G series engines will be available to meet global variations in emissions requirements. At launch in 2014, the G series met Euro III, Euro IV and China NS4 emissions requirements. 12L engines for Euro V, Euro VI and leading EPA emissions are in development and field testing across world markets

Considering a Cummins engine purchase? For more information including pricing and additional technical information, please contact your Cummins representative. If you need help finding a representative, the Cummins Sales and Service Locator tool can help.