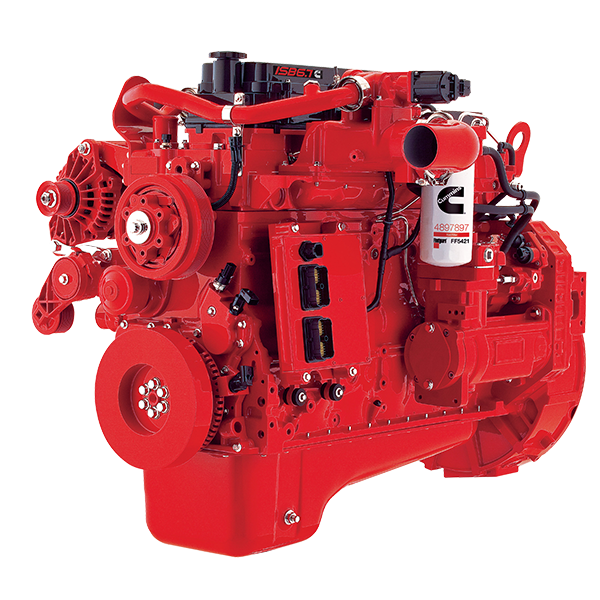 ISB6.7 for School Bus (EPA 2010)
Power
200 - 300
hp
149 - 224
kW
Overview:
Cummins ISB6.7 EPA 2010 delivers superior performance with the lowest cost of operation and maximum uptime to make it best-in-class.  Its High Pressure Common Rail (HPCR) fuel system delivers an optimum balance of performance, emissions control and fuel economy across the entire operating range.  Ratings range from 200-325 hp and a maximum 750 lb-ft of peak torque. Cummins offers both a 220 horsepower (520ft-lb torque) and 250 horsepower (660 lb-ft torque) that are certified at 0.20g NOx without the use of emissions credits.
How did we make these improvements and still meet stringent 2010 emissions standards? With a totally integrated system, that's how.  Everything from the advanced fuel injection technology, improved cooled EGR subsystem and Cummins VGT™ Turbocharger to the proven Cummins Aftertreatment System that includes Selective Catalytic Reduction (SCR) technology has been engineered and manufactured in-house.   The result is a totally integrated system delivering an engine that provides near-zero emissions without compromising performance.
And that's just a few of the features the ISB6.7 has to offer.  It is designed to keep your maintenance to a minimum while delivering big results.
All backed by the best customer support in the business.

Considering a Cummins engine purchase? For more information including pricing and additional technical information, please contact your Cummins representative. If you need help finding a representative, the Cummins Sales and Service Locator tool can help.