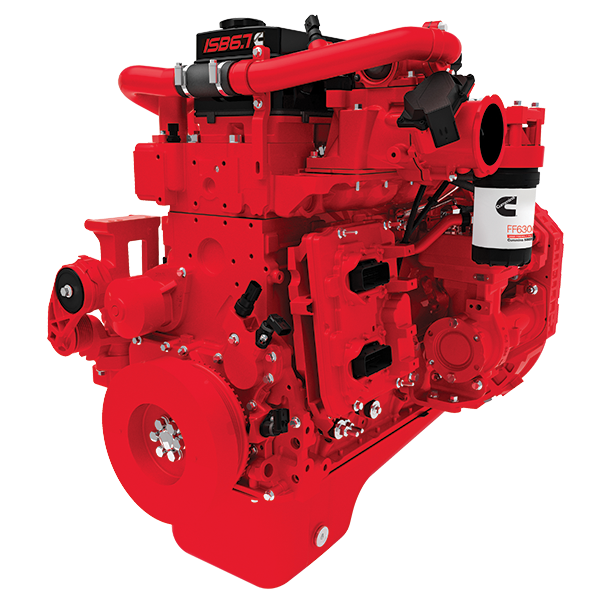 ISB6.7 for Fire & Emergency (2013)
Power
260 - 360
hp
194 - 268
kW
Torque
660 - 800
lb-ft
895 - 1085
N•m
Available Regions
US and Canada,
Russia,
Africa & Middle East,
Mexico,
Philippines,
Singapore,
Brazil,
Bolivia,
Uruguay,
Paraguay,
Argentina,
Colombia,
Central America,
Europe,
Japan,
Korea
Overview:
ISB6.7 for 2013.

Responding Better. In Every Way.
You know how powerful the throttle response is with a Cummins ISB6.7 diesel. Cummins is just as responsive in developing diesel engines that deliver everything from better fuel economy to improved reliability and durability in 2013.

Better. In Every Detail.
Cummins ISB6.7 is designed to deliver better performance, reliability, fuel economy and durability. It is easily customized using the many electronic engine features and adjustable parameters.  Maintenance is virtually unchanged from previous models. Plus, every ISB6.7 is backed by the largest and most capable customer support network in the business, with Cummins Care representatives available at 1-800-DIESELS™ to answer product questions and provide assistance during a repair or service event from Cummins Care. 

Cummins ISB6.7 responds better where it counts. Every emergency. Every time.

Better. In Action.
There's no compromise in performance, as the ISB6.7 is rated at 260-360 hp (194-269 kW) with up to 800 lb-ft (1085 N•m) of peak torque. Multiple injection events per cycle make this engine quiet and smooth to operate, so firefighters and ambulance drivers can concentrate better on traffic outside.

Better. With Proven Technology.
In-house development of the entire integrated unit from air handling to exhaust aftertreatment allows us to optimize engine performance and emissions control better than any other engine manufacturer.

Better. For Years To Come.
In addition to a comprehensive base warranty, Cummins offers a variety of extended coverage plans for up to 10 years/200,000 miles (321,869 km).