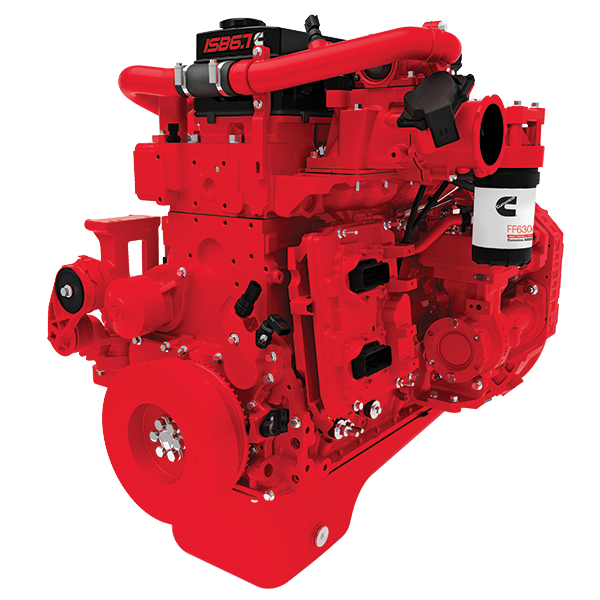 ISB6.7 for Medium-Duty Truck (2013)
Power
200 - 325
hp
149 - 242
kW
Torque
520 - 750
lb-ft
705 - 1017
N•m
Overview:
Every aspect of the ISB6.7 has been improved from fuel efficiency to reliability and durability. You get the lowest cost of operation and maximum uptime whether it's your job to drive a pickup and delivery truck, step van or a medium-duty truck.
Better. At The Pump.
The ISB6.7 gets the highest fuel economy of any engine in its class. For 2013 that advantage increases, with up to 2% better fuel economy versus our 2012 model. The addition of an air intake throttle makes the Exhaust Gas Recirculation (EGR) system more efficient, reducing parasitic losses to increase fuel economy and lower operating costs.
Better. For The Air.
Taking better care of the environment is everyone's job. Cummins ISB6.7 meets the 2014 greenhouse gas (GHG) and fuel efficiency regulations a full year ahead of schedule. Emissions are managed by the proven Cummins Aftertreatment System. In-house development of the entire integrated unit from air handling to exhaust aftertreatment allows us to optimize engine performance and emissions control better than other engine manufacturers. The 2013 ISB 6.7 is equipped with On-Board Diagnostics to monitor and ensure optimum performance of the emissions systems using a system proven in thousands of vehicles since 2007.
Better. On The Road.
The ISB6.7 features High Pressure Common Rail (HPCR) fuel injection for constant pressure and strong performance at every rpm. Multiple injection events per cycle make this engine quiet and smooth to operate. Ratings range from 200-325 hp (149-242 kW)
Better Coverage.
Base engine warranty coverage for the ISB6.7 includes parts and labor on warrantable failures for the base engine and the aftertreatment system. Cummins base warranty coverage is good for 2 years/unlimited mileage. Extended Coverage Plans are available for the base engine and aftertreatment system. Check with your local Cummins distributor or dealer for details.

Considering a Cummins engine purchase? For more information including pricing and additional technical information, please contact your Cummins representative. If you need help finding a representative, the Cummins Sales and Service Locator tool can help.