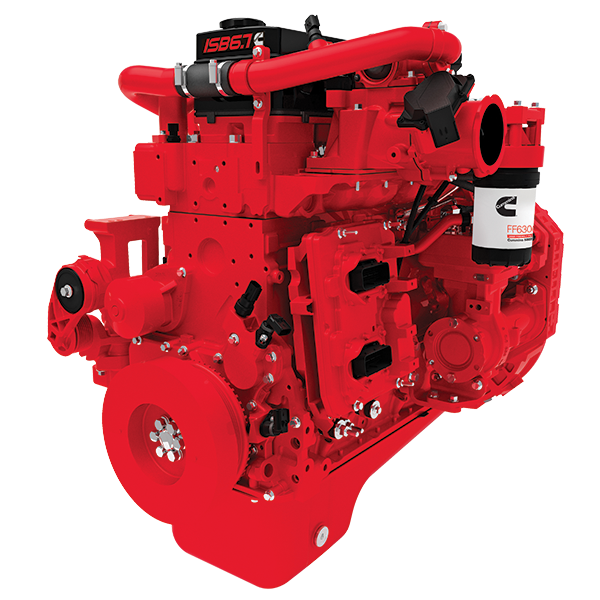 ISB6.7 for School Bus (2013)
Power
200 - 300
hp
149 - 224
kW
Overview:
Jumping A Grade.
Cummins is ahead of the curve in developing diesel engines that deliver everything from better fuel economy to improved reliability and durability. We're even meeting 2014 greenhouse gas (GHG) emissions standards a year ahead of schedule. That's like being smart enough to jump a grade in school. What's more, the ISB6.7 is the cleanest diesel engine available for the school bus market.
Better. At The Pump. 
The fuel economy story is even better. Cummins ISB6.7 already provides best-in-class fuel economy, and it's getting up to 2% better in 2013. The addition of an air intake throttle makes our EGR system more efficient. The reduction in parasitic losses increases fuel economy and lowers operating costs.
Better. For The Environment.
Cummins offers the cleanest ratings of any diesel engines in school buses. Emissions are managed by the proven Cummins Aftertreatment System. In-house development of the entire integrated unit from air handling to exhaust aftertreatment allows us to optimize engine performance and emissions control better than other engine manufacturers. The 2013 ISB6.7 will come equipped with On-Board Diagnostics to monitor performance of the aftertreatment system. The Cummins On-Board Diagnostics system has been proven in thousands of vehicles since 2007.
Better. On The Road. 
There's no compromise in performance, as the ISB6.7 is rated at 200-300 hp (149-224 kW) with up to 660 lb-ft (895 N•m) of peak torque. Multiple injection events per cycle make this engine quiet and smooth to operate, so bus drivers can be more alert and aware of traffic outside – and students inside the bus. Plus, maintenance intervals for the ISB6.7 are virtually unchanged across the board.
Better. For Years Ahead.
Our confidence in the Cummins ISB6.7 is evident in our comprehensive base warranty, one of the best in the industry, and our new extended coverage plans. Lock in up to 10 years of coverage with complete confidence in its robust design and quality manufacturing.
Better. Every Subject.
Cummins ISB6.7 is designed to deliver better performance, reliability, fuel economy and durability. It is easily customized using the many electronic engine features and adjustable parameters.  Maintenance is virtually unchanged from previous models. Plus, every ISB6.7 is backed by the largest and most capable customer support network in the business.
Considering a Cummins engine purchase? For more information including pricing and additional technical information, please contact your Cummins representative. If you need help finding a representative, the Cummins Sales and Service Locator tool can help.