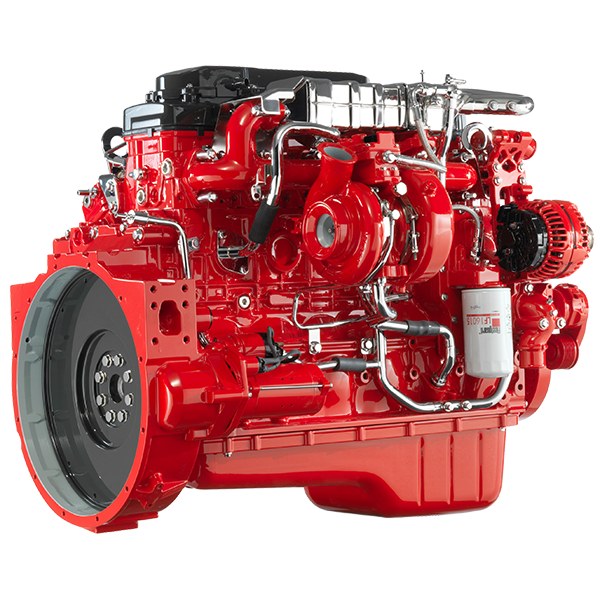 ISB6.7 for Euro Truck & Bus
Power
220 - 320
hp
164 - 239
kW
Torque
664 - 885
lb-ft
900 - 1200
N•m
Overview:
Based on the experience of over 10 million B Series engines to date, the ISB comes with a pedigree of performance and fuel efficiency which continues to improve with each generation.  Developed to meet stringent emissions regulations around the world, it offers the same product enhancements wherever it is used. For operators in Europe, Turkey, Russia, China, Brazil or India, for emissions from Euro 2 through to Euro 6, there is an ISB for you.

The ISB is unique to Cummins, with no other manufacturer able to offer the same design benefits. It provides truck and bus manufacturers with an extremely cost effective power plant, backed by the renowned dependability of the Cummins B engine platform. The latest design improvements form the basis of Cummins strategy to provide evolutionary product updates which continue to move the company significantly ahead of the competition.

For Euro 6 emissions, key design enhancements are incorporated whilst delivering the best possible levels of performance and running costs.   This is achieved using proven emission technologies of cooled exhaust gas recirculation (EGR),variable geometry turbo (VGT), diesel particulate filtration (DPF) and Selective Catalytic Reduction (SCR), all tailored for European vehicle designs, operation and emissions. 

Cummins Engineers have the experience to work with vehicle manufacturers to install the engine and related technologies and deliver the best possible result in terms of emissions and running costs.  Cummins is the natural choice for Euro 6.
For 2017 the ISB6.7 has moved further forward, offering added value in a market where competitive fuel economy and total cost of operation are critical success factors.  A new peak torque of 1200 Nm, with improved bottom end torque delivers better performance.  New top ratings of 300 hp/224 kW for buses and 320 hp/239 kW for trucks increase the engine's capability, being suitable for wider range of applications, vehicle weights and duty cycles. 
The ISB6.7 is ideally suited for rigid trucks, buses and speciality vehicles due to the high torque and power for an engine of its size.  It is used in application classes traditionally associated with engines of higher displacement, all with the reliability and durability expected from Cummins.  Weight sensitive installations such as multi-axle rigid trucks and size constrained installations such as full size and double deck buses are easily in the reach of the ISB's capabilities. It is used in a number of diesel-electric hybrid installations.

All this performance has been delivered with a high level of refinement.  The ISB exceptionally quiet and smooth for a diesel of this size, with noise even further reduced from Euro 5 to Euro 6.   It is available up to 310ps for trucks and 280ps for buses, with a strong peak torque of 1100Nm.

Electronic Integration – industry standard datalink accepts inputs from all powertrain components including electronic transmissions, ABS brakes and ASR antislip. Creates a seamless flow of information shared along a high speed network.
 Electronic Control Module (ECM) – with increased capability it maintains an optimum balance between load demands, fuel efficiency and emissions. The ECM ensures that the engine and aftertreatment meet the more challenging on-board diagnostics (OBD) monitoring requirements for Euro 6.
Electronic Protection – sensors throughout the engine continually send data back to the ECM for self diagnosis and protection. Rapid diagnostics and data downloading are available, helping to ensure maximum uptime for vehicles.
High Pressure Common Rail fuel system – works at higher pressure and provides more precise control of the combustion process. Capable of generating up to 1800 bar injection pressures for refined and rapid power delivery, reduced noise, and improved cold start.
Variable Geometry Turbocharger – developed by Cummins Turbo Technologies the VGT is optimised for high torque and low speed capability, delivering significant performance and driveability improvements.
Latest Engine Filtration – a new nanotechnology based fuel filter media offers unmatched protection for the engine's fuel system, removing up to 98.7% of all particles as small as 4 microns. The filter's replaceable service element has less environmental impact than its predecessor, and unique patented no-filter, no-run design prevents the engine from running without a media element installed, eliminating the risk of debris entering the engine.
New Aftertreatment System – a switch back configuration for compact installations, packaged ready for manufacturers to fit direct to their chassis. Controlled by the engine ECM, it incorporates a Cummins Particulate Filter (CPF) with Selective Catalytic Reduction (SCR) to meet the ultralow levels required at Euro 6. A patented SCR design uses Copper Zeolite technology for very high conversion efficiency, even at low temperatures.
Emissions Control – the EGR and SCR systems are closely balanced to meet the regulated NOx levels and optimise the fuel economy and Adblue usage for the lowest possible running costs.
EPA 2010 engine technology – prove cooled exhaust gas recirculation and variable geometry turbocharging has been tailored for a 6 cylinder product and European vehicle operations.
Rear Engine Power Take-Off (REPTO) with a drive capability of 400Nm is available. It is suitable for applications such as cement mixers.
Closed crankcase ventilation (CCV) – new system mounted to the engine valve cover required to re-cycle blow-by gases now counted in the engine emissions. Positioned for cab over truck designs.
Item

Km

Hours 

Months 

Euro 2 & 3 

Oil & Filter 

40,000 

1,000 

 6

 

Fuel Filter 

40,000 

1,000 

 6

 

Overhead Adjustment 

241,000 

5,000

 48

Euro 4 & 5 

Oil & Filter 

60,000 

1,500 

 12

 

Fuel Filter 

60,000 

1,500 

 12

 

Overhead Adjustment 

241,000 

5,000 

 48
Euro 6 details to be added at a later date
All numbers are adjustable based on duty cycle. 
For complete maintenance information, please consult your Owner's Manual or Operations and Maintenance Manual.
To access our complete brochure library, click here.