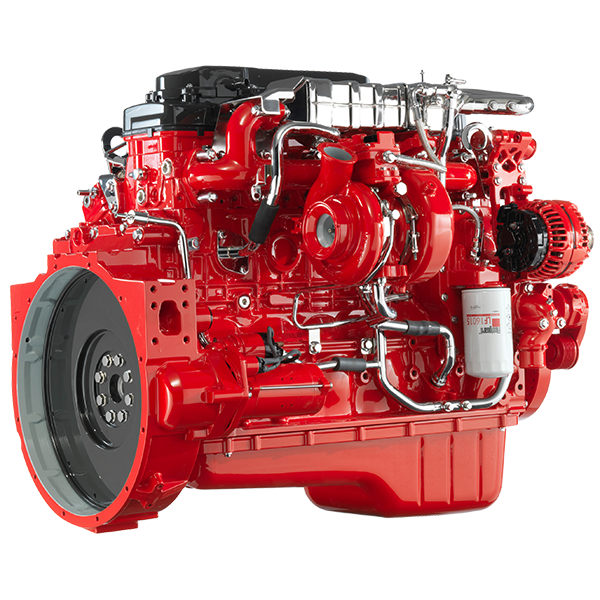 ISB6.7 for Euro Truck & Bus
Power
220 - 320
hp
164 - 239
kW
Torque
664 - 885
lb-ft
900 - 1200
N•m
Available Regions
US and Canada,
Russia,
Africa & Middle East,
Mexico,
Philippines,
Singapore,
Brazil,
Bolivia,
Uruguay,
Paraguay,
Argentina,
Colombia,
Central America,
Europe,
Japan,
Korea
Overview:
Based on the experience of over 10 million B Series engines to date, the ISB comes with a pedigree of performance and fuel efficiency which continues to improve with each generation.  Developed to meet stringent emissions regulations around the world, it offers the same product enhancements wherever it is used. For operators in Europe, Turkey, Russia, China, Brazil or India, for emissions from Euro 2 through to Euro 6, there is an ISB for you.

The ISB is unique to Cummins, with no other manufacturer able to offer the same design benefits. It provides truck and bus manufacturers with an extremely cost effective power plant, backed by the renowned dependability of the Cummins B engine platform. The latest design improvements form the basis of Cummins strategy to provide evolutionary product updates which continue to move the company significantly ahead of the competition.

For Euro 6 emissions, key design enhancements are incorporated whilst delivering the best possible levels of performance and running costs.   This is achieved using proven emission technologies of cooled exhaust gas recirculation (EGR),variable geometry turbo (VGT), diesel particulate filtration (DPF) and Selective Catalytic Reduction (SCR), all tailored for European vehicle designs, operation and emissions. 

Cummins Engineers have the experience to work with vehicle manufacturers to install the engine and related technologies and deliver the best possible result in terms of emissions and running costs.  Cummins is the natural choice for Euro 6.
For 2017 the ISB6.7 has moved further forward, offering added value in a market where competitive fuel economy and total cost of operation are critical success factors.  A new peak torque of 1200 Nm, with improved bottom end torque delivers better performance.  New top ratings of 300 hp/224 kW for buses and 320 hp/239 kW for trucks increase the engine's capability, being suitable for wider range of applications, vehicle weights and duty cycles.