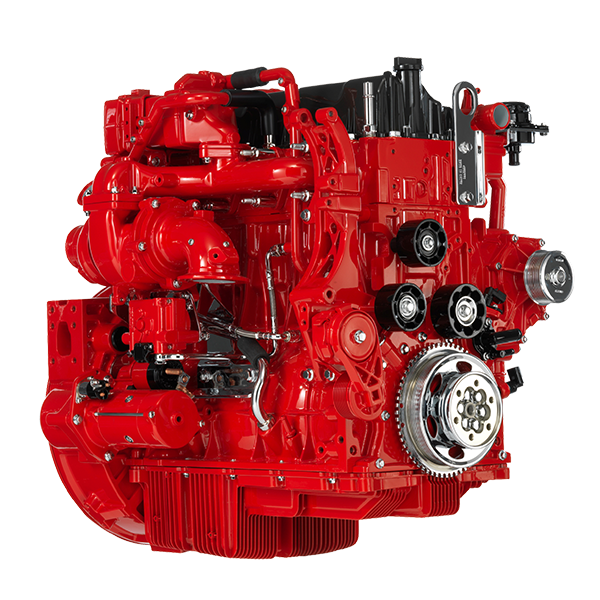 ISB4.5 for Euro Truck & Bus
Power
150 - 210
hp
112 - 157
kW
Torque
480 - 627
lb-ft
651 - 850
N•m
Overview:
Backed by the experience of over 20 years and 10 million units, Cummins ISB meets stringent emissions regulations around the globe, driving the same operational benefits wherever it is used. It is available for emissions levels from Euro 2 through to Euro 6 and for vehicles operating in Europe, Turkey, Russia, China, Brazil or India.

The Cummins 4 cylinder B Series engine family has a long history from pre-Euro 1 up to Euro 5.  Technological updates including turbocharging, charge air cooling, electronic controls, high pressure common rail fuel systems, increased displacement and exhaust aftertreatment have brought the engine to the class leading position it enjoys today.

The latest generation ISB4.5 makes a further leap forward for Euro 6 emissions.  It merges the key benefits of the Euro 5 product with the ISF3.8 engine and Cummins ultra low emission technologies.  It incorporates leading automotive modular design features enabling key components to be simpler and lighter. This means that the engine weight is 10% lower than the current product, despite the addition of key emissions technologies. The combustion design also makes the new engine even quieter than the Euro 5 version.

At Euro 6, the engines uses a combination of cooled exhaust gas re-circulation (EGR) and variable geometry turbocharging (VGT) on the engine allied to a new aftertreatment system incorporating particulate filtration (DPF) with selective catalytic reduction (SCR).

Cummins has air intake-to-exhaust integration capability, with all core technologies available in-house.  This enables the development of the optimum product for operators and the environment.  The EGR and SCR systems are closely balanced to meet the regulated NOx levels and deliver the best possible fuel economy and Adblue usage with the lowest possible running costs. SmartEfficiency from Cummins is a range of customer focused improvements which will deliver more value with improved efficiency. 
For 2017 the ISB4.5 adds further customer benefits, with new ratings specifically with substantially improved low end torque from 700 rpm.  This will deliver improved vehicle acceleration across the rev range. The engine moves up to a new peak torque of 850 Nm from 760 Nm, increasing its scope and making it suitable for wider range of applications, vehicle weights and duty cycles. 
The 4 cylinder ISB4.5 engine is suitable for trucks up to 18 tonnes and buses up to 12m.  It has become one of the most widely used engines for low-carbon diesel electric hybrid buses across the UK and Europe.  It is available up to 210ps for trucks and buses, with a strong peak torque of 760Nm.
Electronic Integration – industry standard datalink accepts inputs from all powertrain components including electronic transmissions, ABS brakes and ASR antislip. Creates a seamless flow of information shared along a high speed network.
Electronic Control Module (ECM) – with increased capability it maintains an optimum balance between load demands, fuel efficiency and emissions. The ECM ensures that the engine and aftertreatment meet the more challenging on-board diagnostics (OBD) monitoring requirements for Euro 6.
Electronic Protection – sensors throughout the engine continually send data back to the ECM for self diagnosis and protection. Rapid diagnostics and data downloading are available, helping to ensure maximum uptime for vehicles.
High Pressure Common Rail fuel system – works at higher pressure and provides more precise control of the combustion process. Capable of generating up to 1800 bar injection pressures for refined and rapid power delivery, reduced noise, and improved cold start.
Variable Geometry Turbocharger – developed by Cummins Turbo Technologies the VGT is optimised for high torque and low speed capability, delivering significant performance and driveability improvements.
Latest Engine Filtration – a new nanotechnology based fuel filter media offers unmatched protection for the engine's fuel system, removing up to 98.7% of all particles as small as 4 microns. The filter's replaceable service element has less environmental impact than its predecessor, and unique patented no-filter, no-run design prevents the engine from running without a media element installed, eliminating the risk of debris entering the engine.
New Aftertreatment System – a switch back configuration for compact installations, packaged ready for manufacturers to fit direct to their chassis. Controlled by the engine ECM, it incorporates a Cummins Particulate Filter (CPF) with Selective Catalytic Reduction (SCR) to meet the ultralow levels required at Euro 6. A patented SCR design uses Copper Zeolite technology for very high conversion efficiency, even at low temperatures.
Emissions Control – the EGR and SCR systems are closely balanced to meet the regulated NOx levels and optimise the fuel economy and Adblue usage for the lowest possible running costs.
EPA 2010 engine technology – prove cooled exhaust gas recirculation and variable geometry turbocharging has been tailored for a 4 cylinder product and European vehicle operations.
Closed Crankcase Ventilation (CCV) – new patented design which is integrated into the camshaft with no servicing required
Engine Block and Cylinder Head Design – less mass than traditional designs with no reduction in durability. The block is 10% lighter, and the head 20% lighter than the previous ISB4.5. Additional benefits include improved coolant flow and cylinder pressure capability with reduced noise, vibration and harshness.
Composite Materials – used for components such as the valve cover and oil pan to reduce weight and noise.
Lubricating Pump – driven by the crankshaft via a gerotor design rather than traditionally driven by gear from the camshaft. The simpler design reduces noise and improves oil flow during cold starts.
Cooling Module – brings together the water pump, oil filter and oil cooler, leading to improved pressure management and enhanced robustness and durability.
Global Design – the engines are available in specifications that meet Euro 2 to Euro 6 emissions.
Global Support – backed by the widest network in the industry, with over 5,000 service outlets worldwide. Contact your local customer assistance centre for technical support.
| | | | | |
| --- | --- | --- | --- | --- |
|   | Item  |   |   |   |
| Euro 2 & 3 | Oil & Filter  | 40,000  | 1,000  | 6  |
|   | Fuel Filter  | 40,000 | 1,000  | 6  |
|   | Overhead Adjustment  | 241,000  | 5,000 | 48  |
| Euro 4 & 5  | Oil & Filter  | 60,000  | 1,500  | 6  |
|   | Fuel Filter  | 60,000 | 1,500  | 6  |
|   | Overhead Adjustment  |  241,000 |  5,000 | 48  |
Euro 6 details to be added at a later date
All numbers are adjustable based on duty cycle. 
For complete maintenance information, please consult your Owner's Manual or Operations and Maintenance Manual.
To access our complete brochure library, click here.