In recent years, several improvements have been made to the filter media, filter design and filtration systems to improve micron rating and increase filter efficiency to prevent fuel flow from by passing elements and to improve overall system robustness. Even with the advancement of fuel filtration and using the most advanced technology available, fuel filters have not reached 100 percent efficiency.

Cummins recommends the use of Fleetguard™ filters with NanoNet™ media on your engine. They provide up to 13 times greater protection against particles 4 microns and larger. A primary issue with off-­highway equipment is the amount of vibration and shock loading that shakes the engine to its core. NanoNet™ does a better job of trapping particles in the first place – and not allowing them to be dislodged under extreme shaking and vibration. Harmful particles aren't the only contaminant in fuel. Removing water is a secondary but no less critical function. Ordinary filters gradually absorb water over time, and eventually let water pass through to the injectors. NanoNet™'s unique molecular structure never suffers any degradation of its exceptional water-removal capability over the entire life of the fuel filter. The difference is especially evident when there's a "slug" of water, which can quickly saturate conventional media and overwhelm it.
Remember: 3 micron on-engine, stage 2 filters, should never be pre-filled.
Additional information on Cummins Filtration NanoNet™ filters can be found at cumminsfiltration.com.
Cummins Filtration Fuel ReGen System – Protect Your Investment
Because of capital-intensive equipment, users depend on vehicle uptime for the overall success of their operation. Fuel storage is essential to the business, as is the delivery of clean fuel to prevent premature injector or engine failure. The Cummins Fuel ReGen System helps ensure fuel cleanliness. Designed for use on storage tanks of 10,000 gallons and larger,*the Fuel ReGen System runs 24/7 in a continuous recirculation configuration. Processing 50-100 gpm, the system cleans fuel with unmatched efficiency: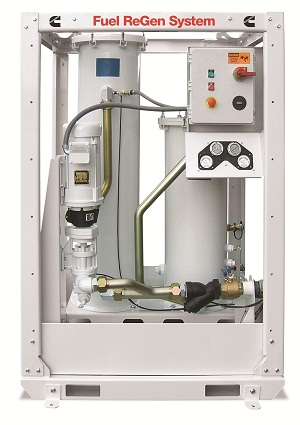 99% emulsified water removal per SAE J1488
99% free water removal per SAE J1839
95% particulate removal @ 4 micron per ISO 19438
99% particulate removal @ 6 micron per ISO 19438
Simple System Integration
The compact Fuel ReGen System fits conveniently in a small footprint, requiring only a standard 2" hose and standard site electrical connections to connect to the bulk storage tank. Controls, pump, Winslow depth filter and coalescing filter are housed in a single durable unit that allows for easy lifting by crane or fork truck. Once installed, monitoring and servicing are simple with integrated features, including:
Pressure relief and drain valves
Pressure gauges
Top-load filter servicing
For more information visit cumminsfiltration.com or view the spec sheet.
Additives
It is a common practice to put additives in the diesel fuel being stored. Cummins Inc. neither approves nor disapproves the use of any fuel additive not manufactured or sold by Cummins Inc. or its subsidiaries. For further information, please refer to Service Bulletin 3379001, Fuels for Cummins Engines, available on QuickServe Online or by contacting your local authorized distributor.