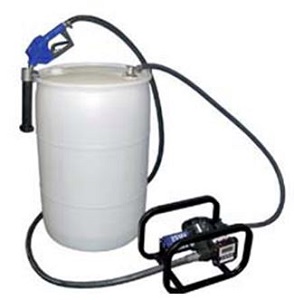 The availability of bulk DEF delivery equipment is growing. Currently, existing fuel service vehicles, designated DEF delivery trucks, and tote systems make large volumes of DEF portable and easier to deliver to industrial consumers.
On-Site Storage/Filling Equipment
There are an ever increasing number of ways to easily store large volumes of DEF on-site, ranging from bulk storage tanks to equipment mounted containers. Large volume storage tanks can hold up to 30,000 gallons of DEF in vertical or horizontal above-ground containers and there are also versions suitable for underground storage. Integrated DEF dispensing systems that are pre-piped and fitted with the unit and  pump are also available. All of these tanks can be made of fiberglass or epoxy-lined steel.
In addition to large scale bulk DEF storage and delivery, there are a number of smaller bulk containers for intra-site delivery of DEF including drum and tote containers. Both of these container types make use of either attached or vehicle-mounted DEF pumps and tanks with electric DEF pump drives. Electrically heated DEF transfer hoses are also available from major manufacturers. The hoses are designed to operate intemperatures ranging from -40°F to 248°F (-40°C to 120°C) and are available in both pressure and suction designs. Electrically heated tote and drum blankets are also available in insulated wrap designs with adjustable thermostat control (as seen below). Standard ratings range to -23C/-10F with some Arctic ratings ranging to -40C/-40F. All are UL/CSA rated for safety.



On-Equipment Storage Tanks
Currently, there are EPA requirements manufacturers must follow in designing their tanks, especially for equipment operating in cold weather. Specifically, the EPA requires that DEF must thaw and flow within 70 minutes. To meet this requirement, manufacturers have designed tanks so that heat energy from the engine warms the DEF system. An electronically controlled flow of engine coolant moves through sump head and pump, thawing the DEF. Cummins development tests have successfully thawed 60 gallons of DEF well within the EPA requirements.