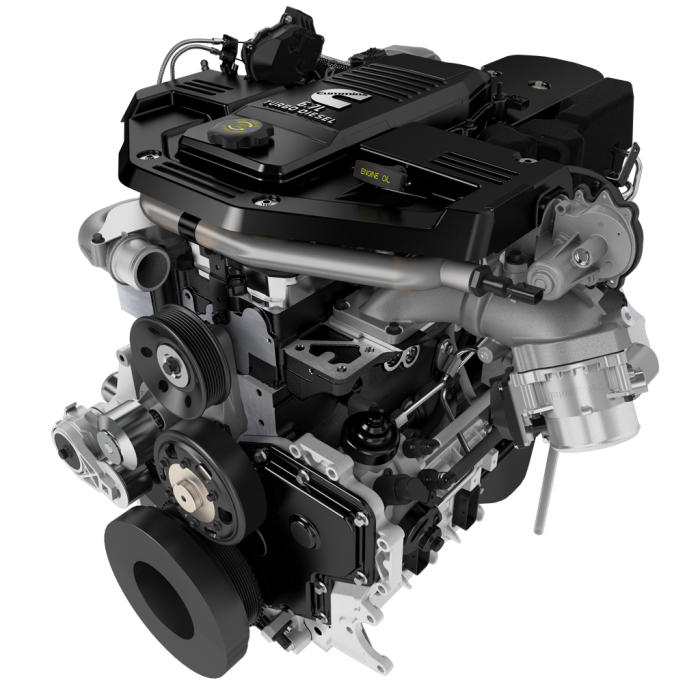 Cummins 6.7L Turbo Diesel (2019)
Power
370 - 400
hp
276 - 298
kW
Torque
850 - 1000
lb-ft
1152 - 1356
N•m
As Cummins Celebrates our 100th year in business in 2019, we also celebrate a 30-year partnership with RAM truck that started with the Cummins 5.9L Turbo Diesel in model year 1989 through our latest 6.7L Turbo Diesel.
For the model year 2019 RAM, the 6.7L Cummins Turbo Diesel delivers more horsepower and torque, improved NVH and reduced weight.
Overview:
For the first time, HD pickup buyers can get an impressive 1000 lb-ft of torque. This high-output (HO) rating is offered exclusively in the RAM 3500 equipped with the Aisin transmission option. The new high-output engine boasts 400 hp and 1000 lb-ft of best-in-class torque.
For RAM 2500 and 3500 (equipped with a 68RFE Auto) HP and torque have increased to 370 hp and 850 lb-ft to provide the right power for these models.
In addition to moving to a higher capability high pressure pump, several critical features were implemented to maintain the proven reliability and durability our customers have come to expect:
A Compacted Graphite Iron (CGI) material for the block allows us to increase the cylinder pressure capability while reducing the overall weight by almost 60 lbs
A new cast-iron cylinder head containing high-temperature capable exhaust valves actuated by all-new hydraulic lash adjusters in the block eliminates the need for valvetrain adjustment service intervals
The heart of the engine is a higher-strength alloy crankshaft with a 10-bolt crank flange driving newly-designed forged connecting rods and new bearings which transfer power from the low-friction ring-wrapped pistons
A new larger Cummins Holset variable-geometry turbocharger optimized with heavy duty bearings, and a new compressor-side housing is a key ingredient in the new ratings, pumping 33 pounds per square inch (psi) of fresh air into the engine
The new fuel-delivery system includes a new 29,000 psi (2,000 bar) fuel pump and fuel rail with Cummins Filtration "filter in filter" NanoNet® technology