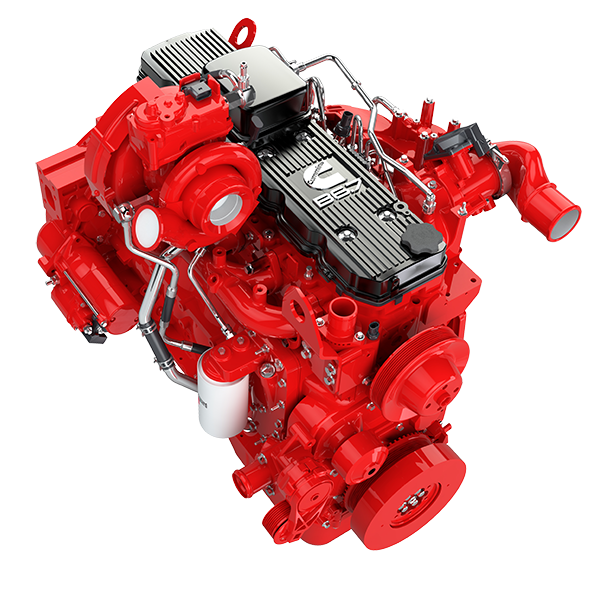 Power
155 - 326
hp
116 - 243
kW
Torque
550 - 1014
lb-ft
746 - 1375
N•m
Applications
Agriculture
Construction
Mining Engines
Overview:
More With Less.
The B6.7 is the most popular diesel engine ever built by Cummins. Now in its fourth decade of continuous improvement, the B6.7 for 2019 features an EGR-free design that delivers 5 percent more power and 31 percent more peak torque than the current model. Cummins award-winning VGT™ Turbocharger sets the industry standard for reliability and durability as it increases equipment productivity. Increased fuel economy and longer maintenance intervals contribute to a reduced cost of operation and lower Total Cost of Ownership.
EGR-free architecture reduces complexity, improves reliability and reduces the cooling system space claim. Multiple component options allow for easier installation and maintenance. These include a choice of front- or rear-sump oil pan locations, on-engine or remote-mounted options for ECM and maintenance filters, the option of Rear Engine or Front Engine Power Take Offs, plus your choice of four turbocharger orientations; high-mount front and rear, or low-mount front and rear.
The Single Module™ aftertreatment system combines DPF, SCR and urea dosing in one unit which takes up 50 percent less space and weighs 30 percent less than the prior system.
B6.7 owners also benefit from Cummins Connected Diagnostics™, remote monitoring technology that wirelessly connects the user's engine to Cummins experts for instant analysis and recommended action the moment a fault code is generated on any piece of equipment equipped with a telematics.
The B6.7 is available with Cummins Guidanz™ technology, which provides a seamless, process-guided package that streamlines the diagnosis and repair process, ensuring that the right parts, tools and support can be brought onsite to speed up repairs.
High sulfur tolerance allows OEMs to install the B6.7 in equipment working in areas with limited fuel quality capability. So OEMs can fill more orders with fewer variables on the assembly line.