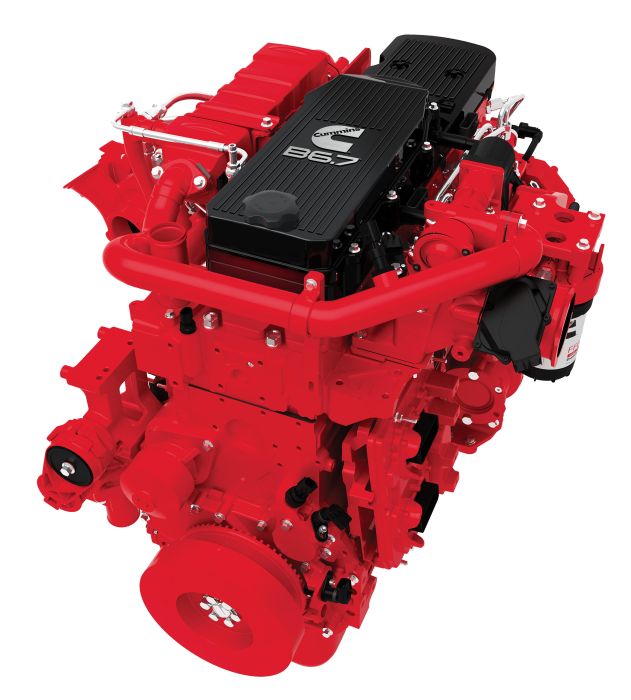 B6.7 for TEMs & Body Builders
Power
200 - 325
hp
149 - 242
kW
Torque
520 - 750
lb-ft
705 - 1017
N•m
Available Regions
US and Canada,
Russia,
Africa & Middle East,
Mexico,
Philippines,
Singapore,
Brazil,
Bolivia,
Uruguay,
Paraguay,
Argentina,
Colombia,
Central America,
Europe,
Korea,
Japan
Overview:
When you say the word "efficiency" to anyone in the trucking industry, the conversation immediately turns to fuel economy – for good reason. It's one of the single most important factors in your total cost of operation. 

And that's why Cummins is redefining a classic and introducing the newest-generation B Series engine from Cummins – the B6.7. The Cummins B6.7 for 2017 is more efficient, with up to 7 percent better fuel economy over the EPA 2013 ISB6.7, with the highest gains in key duty cycles running at lower speeds and in inner-city operations.
But that's not all - Cummins is making other significant enhancements in everything from reliability to noise reduction to real-time diagnostic capability and performance.

One contributing factor to the fuel economy improvement is the fully integrated Single Module™ aftertreatment system, which incorporates a flowthrough design and optimized heat management. It also contributes to a significant space savings over the previous model.

Obviously, even though the B6.7 already commands the highest market penetration of any engine in its class, Cummins engineers don't take anything for granted. Even with a legacy of over 12 million B series engines sold over the last 32 years, we continue to keep improving a time-tested and proven reliable product. The B6.7 accumulated 1.5 million test miles in multiple real-world applications prior to its 2017 launch, ensuring exceptional uptime from the start. That's Cummins, redefining efficiency – not just for the B6.7, but for an entire industry.
A Business Partner With The Power To Meet Your Needs.
There are two distinctly different B6.7 versions from which to choose. Customers looking to maximize fuel economy with the lowest possible cost of operation should select one of our efficiency ratings from 200 hp to 260 hp (149-194 kW). B6.7 engines in this ratings family have a unique combustion formula that, together with improved airflow through the aftertreatment and modifications to the VGT® Turbo, add up to an additional 7 percent fuel economy improvement over the EPA 2013 ISB6.7.

Customers who need additional power and torque should opt for B6.7 performance ratings from 280 hp to 325 hp (209-242 kW). Those ratings feature their own unique turbocharger, piston design and aftertreatment system, for optimum performance. Peak torque ranges from 660 lb-ft to 750 lb-ft (895-1017 N•m), making it easy to deliver heavy loads on the steepest hills while still offering up to 5 percent better fuel economy in 2017.