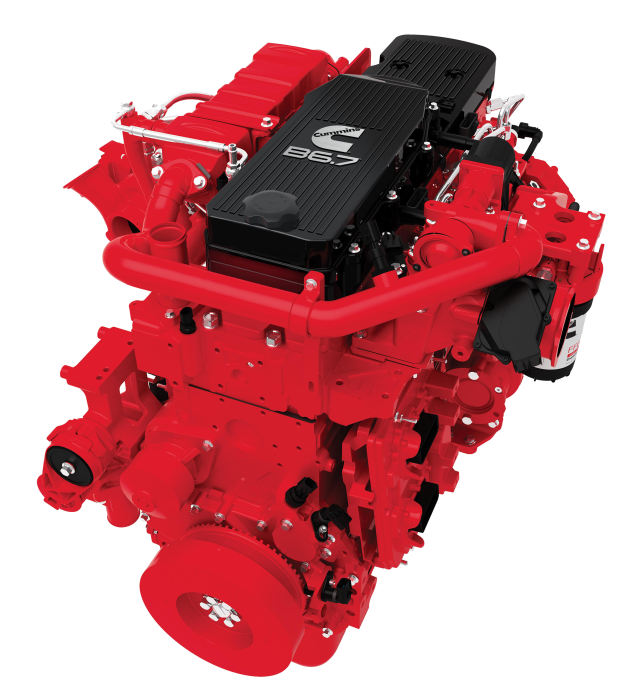 B6.7 for Shuttle Bus (2017)
Power
200 - 300
hp
149 - 224
kW
Torque
520 - 660
lb-ft
705 - 895
N•m
Available Regions
US and Canada,
Russia,
Africa & Middle East,
Mexico,
Philippines,
Singapore,
Brazil,
Bolivia,
Uruguay,
Paraguay,
Argentina,
Colombia,
Central America,
Europe,
Korea,
Japan
Overview:
SmartEfficiency: High-Achieving and Cost-Lowering

The Cummins SmartEfficiency initiative is a focused approach that improves uptime and reliability while providing a broad spectrum of engine choices to meet every need. The combination of a low cost of operation, high reliability, clean operation and long-term durability are unsurpassed in the industry. The fact that all Cummins engines use the same control system technology and can be serviced at any authorized Cummins location ensures serviceability anywhere, anytime

Even with a legacy of over 12 million B series engines sold over the last 32 years, Cummins continues to keep improving a time-tested and proven reliable product. That's why Cummins is redefining a classic and introducing the newest-generation B Series engine – the B6.7. The Cummins B6.7 for 2017 is more efficient, with up to 8.5 percent better fuel economy over the EPA 2013 ISB6.7.

Aftertreatment Technology: Simply Better

The Cummins B6.7 diesel engine features a new Single Module™ aftertreatment system that sets the new standard for efficiency. It combines Selective Catalytic Reduction (SCR) and a Diesel Particulate Filter (DPF) into a single flow-through design. It occupies up to 70 percent less space and weighs up to 30 percent less. The smaller size allows it to be installed closer to the engine, for better heat management. That, together with the reduced weight, contributes to improved fuel economy. The UL2 Urea Dosing System eliminates the need for engine coolant lines to the doser, provides more efficient atomization, to minimize the risk of urea dosing deposits and reduces regeneration events, while maintaining a 3 percent to 4 percent Diesel Exhaust Fluid (DEF) usage factor.
Connected Diagnostics: Smarter Route Management with Connected Diagnostics

Bus drivers have enough to pay attention to without being concerned about engine fault codes. In the rare event that one is triggered while the bus is in operation, it can be diagnosed immediately over the air, through Connected Diagnostics. Cummins Connected Diagnostics delivers real-time engine fault code analysis, with a probable diagnosis and a recommended action for school buses that are equipped with telematics.