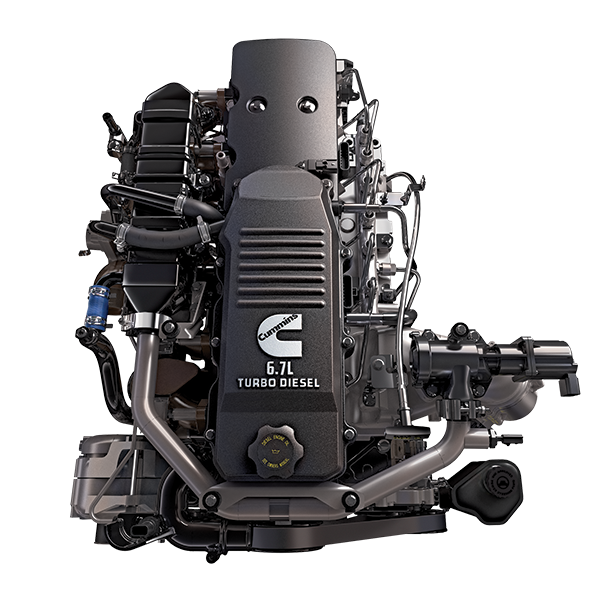 6.7L Cummins Turbo Diesel for Pickups (EPA 2010)
Power
350 - 350
hp
261 - 261
kW
Torque
800 - 800
lb-ft
1085 - 1085
N•m
Overview:
The Ram Heavy Duty pickup with the Cummins 6.7L Turbo Diesel offers outstanding horsepower and torque, with a proven combination of advanced technologies. Cummins proven 6.7L Turbo Diesel delivers unsurpassed torque, best-in-class low-end torque, and a best-in-class standard integrated exhaust brake, providing the legendary performance expected from Cummins. It builds on the long tradition of durability of the Cummins Turbo Diesel.
This engine is rated with 350 horsepower at just 3013 rpm. It achieves a peak torque of 800 lb-ft with the automatic transmission configuration, providing Ram Heavy Duty pickup customers with superior trailer towing and drivability. With 800 lb-ft of torque at 1600 rpm, power is increased across a wide speed range of 1200-2700 rpm. This delivers up to 46 additional hp at typical highway cruising speeds and the most low-end torque available in a heavy duty pickup.
The years of experience and stability of this engine and aftertreatment system gives the Cummins 6.7L Turbo Diesel the unique advantage of having more engines and more miles on the road than any other diesel engine in the heavy duty pickup market. Ram Heavy Duty trucks with the Cummins 6.7L Turbo Diesel are fully covered under a comprehensive warranty that shows how much confidence we have in its dependability and durability.