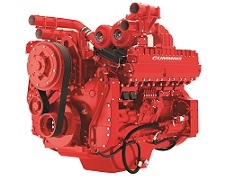 Power
760 - 1500
hp
567 - 1119
kW
Certification
EPA Tier 1, EPA Tier 2, EU Stage II
Applications
Construction
Mining Generators
Overview:
Quantum System Electronics - High-speed Electronic Control Module (ECM) with a self-cooling mount is isolated from detrimental vibration loading. A field-proven, fully-sealed wiring harness Cummins Mining Engine QST30with fail-safe connectors integrates the ECM with the engine sensors for optimized engine performance, monitoring and protection. Quantum system technology is ideal for tough mining applications that demand continuous uptime carrying hundreds of tons capacity.
One-Piece Ferrous Cast Ductile Iron Pistons - Provide the strength and durability to handle high cylinder pressures for longer life.
Advanced Valve Metallurgy - Chrome plating on valve stem and nitro-sulphurizing treatment on the entire valve surface provide additional durability.
Swirl-Port Cylinder Heads - Optimize durability and combustion sealing. Advanced airflow improves fuel economy, low-end torque performance and emissions capability.
Prelub™ System - Distributes oil to rifles and friction surfaces and builds oil pressure before cranking can occur. A pressure switch assures proper oil pressure in the main rifle to reduce the risk of starting the engine without oil in the sump or filters. Prelub is a standard option on all mining engines due to proven success in extending engine life-to-rebuild.
Two-Stage Cummins Oil Filter - Combines full-flow and bypass filtration to effectively remove harmful sludge and up to three times as many contaminants to reduce engine wear.
Premium Fan Drive – Incorporates large matched and sealed bearings, improved oil seals, and an improved idler system. The fan drives have fixed fan centers with tensioning provided by a manually adjusted and maintenance free idler. The fan drive is available with or without an electronically controlled oil-actuated fan clutch.