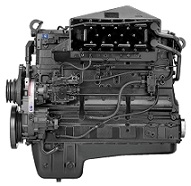 Power
295 - 525
hp
220 - 391
kW
Applications
Compressor
Construction
Rail
Overview:
CELECT Electronics -  Provide superior fuel economy, improved engine response and internal diagnostics.
Cummins 4 x 60 Turbocharger - Provides strong low-end torque and excellent transient response.
Articulated Steel Pistons - Deliver 30% longer life with increased reliability and improved combustion.
Swirl-Port Cylinder Head - provides advanced airflow to reduce emissions and increase low-end torque.
System with ECM 876 SAE-B Hydraulic Pump Drive - Delivers significantly more capacity than competitive drives.
Oil Filter combination of full flow and bypass - Improves filtration while minimizing replacement costs.
Cylinder liners - Precision-honed for reduced cylinder wear and extra-long life.
Rear Engine Power Take off option is available.