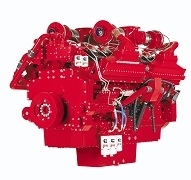 Power
2000 - 2700
hp
1491 - 2013
kW
Certification
EPA Tier 1, EU Stage IIIA, EPA Tier 2
Overview:
High Pressure Modular Common Rail (MCR) Fuel System - Cummins high pressure fuel pump and modular common rail system provides full-authority electronic control of the fuel pump Cummins Mining Engine QSK60and injectors for precise control of both injection pressure and timing. Each injector includes its own integrated accumulator, which helps to eliminate pressure pulsation between injectors and improve stability.
Long-Life Camshaft - This large-diameter camshaft with micro-finished hardened surface handles high loads, making it more reusable at rebuild.
Prelub™ System - Distributes oil to rifles and friction surfaces and builds oil pressure before cranking can occur. A pressure switch assures proper oil pressure in the main rifle to reduce the risk of starting the engine without oil in the sump or filters. Prelub is a standard option on all mining engines due to proven success in extending engine life-to-rebuild.
Power Cylinder Package - Proven single-piece ferrous cast ductile iron pistons for maximum durability and reliability. An advanced piston design uses nitrided liners and cast-iron top rings to handle high injection pressures with exceptional durability.
Quantum System - High-speed Electronic Control Module (ECM) with a self-cooling mount is isolated from detrimental vibration loading. A field-proven, fully-sealed wiring harness with fail-safe connectors integrates the ECM with the engine sensors for optimized engine performance, monitoring and protection. Quantum system technology is ideal for tough mining applications that demand continuous uptime carrying hundreds of tons capacity.
Advanced Engine Monitoring - Additional sensors and expanded data log capability allow you to better monitor engine performance cylinder by cylinder on a real-time basis for increased availability and engine protection.
Two-Stage Cummins Oil Filters - Combination full-flow and bypass filtration to effectively remove harmful sludge and up to three times as many contaminants to reduce engine wear.