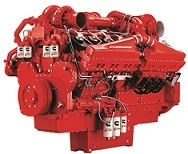 Power
1600 - 2000
hp
1193 - 1491
kW
Applications
Marine
Mining Generators
Rail (G-Drive)
Overview:
Quantum System Electronics - High-speed Electronic Control Module (ECM) with a self-cooling mount is isolated from detrimental vibration loading. A field-proven, fully-sealed wiring harness with fail-safe connectors integrates the ECM with the engine sensors for optimized engine performance, monitoring and protection. Quantum system technology is ideal for tough mining applications that demand continuous uptime carrying hundreds of tons capacity.
State-of-the-art Combustion Control System - Features enhanced electronics integrated with upgraded sensors and three powerful CM850 Electronic Control Modules for peak performance at every altitude and under every load condition.
High Pressure Modular Common Rail (MCR) Fuel System - Cummins high pressure fuel pump and modular common rail system provides full-authority electronic control of the fuel pump and injectors for precise control of both injection pressure and timing. Each injector includes its own integrated accumulator, which helps to eliminate pressure pulsation between injectors and improve stability.
Cummins Turbo Technologies Turbochargers - Feature titanium impellers and water cooled bearing housings for long-term reliability, while a high-capacity compressor provides higher airflow for maximum power and long life.
Ferrous Cast Ductile Iron Pistons - Provide increased strength and durability to handle increased cylinder pressures for longer life-to-overhaul.
Piston-Cooling Nozzles - Direct a cooling stream of oil beneath each piston crown and bowl rim for long life with increased reliability.
Wiring - Safely enclosed inside a foam-filled extruded aluminum channel that is completely sealed from the external environment to prevent chafing and corrosion damage. DIN-style connections have a locking feature that protect against pin-fretting damage.
Prelub™ System - Distributes oil to rifles and friction surfaces and builds oil pressure before cranking can occur. A pressure switch assures proper oil pressure in the main rifle to reduce the risk of starting the engine without oil in the sump or filters. Prelub is a standard option on all mining engines due to proven success in extending engine life-to-rebuild.