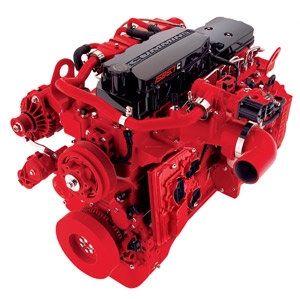 Power
180 - 230
hp
134 - 172
kW
Torque
700 - 810
lb-ft
949 - 1098
N•m
Applications
Transit Bus
Heavy-Duty Truck
Medium-Duty Truck
Tipper
Overview:
Cummins ISBe – the engine for every job! 
Cummins ISBe takes a further leap forward to meet BS-IV and BS-VI emission norms. With an excellent reputation for performance and fuel economy already established worldwide, these engines have been improved in a number of key areas benefiting the operators of rigid trucks, tractor trailers, tippers and buses with higher performance and lower running costs.
Key design enhancements are incorporated in the latest ISBe engines to provide higher power to weight ratios and improved vehicle productivity. Torque and power are increased substantially, allowing these engines to move up to new application classes traditionally associated with engines of higher displacement. Size constrained installations such as full-size buses are now in reach of the ISBe's capabilities. 
The ISBe is unique to Cummins, with superior design benefits for BS-IV. It provides equipment manufacturers with a much more cost-effective power plant backed by the renowned reliability and durability of Cummins B engine platform. Cummins ISBe – the engine for every job! 
Cummins have carried over the successful ISBe benefits from the previous model, and made key changes to improve the total package: 
Emissions Technology - Meets Euro 4 requirements with the Cummins Integrated Emission Management (IEM) system using Selective Catalytic Reduction (SCR) and Exhaust Gas Recirculation (ERG) technology.
New Electronic Control Module (ECM) - Maintains an optimum balance between load demands, fuel efficiency and emissions control. It is designed to be isolated from detrimental thermal and vibration loading for extreme reliability and durability
Common Rail System - Works at higher pressure and provides more precise control of the combustion process. Capable of generating up to 1600 bar injection pressures for refined and rapid power delivery, reduced noise, and improved cold start
Rear Engine Power Take-Off (REPTO) - Suitable for applications such as cement mixers thanks to drive capability of 400Nm
Higher Power - 4-cylinder engine increases to 210HP and the 6-cylinder engine moves up to 310HP, giving it the highest power to weight ratio in its class
Higher Torque - increased by 17% for improved responsiveness. 4-cylinder engine moves up to 700Nm and the 6-cylinder engine increases to 1100Nm
Low Operating costs - the optimized engine and aftertreatment system provides significant reductions in fuel consumption and extends service intervals
Future Proof Design - minimal changes required to meet Euro 5 emission norms and beyond. The Euro 4 ISBe offers significant increase in power and torque. This is provided without penalty to fuel economy. In fact, fuel consumption will reduce by up to 7% with engine service intervals being extended by 60%.