Selective Catalytic Reduction (SCR) Engines 
Engine controls the production of particulate matter (PM), thus limiting it within the permissible value, while SCR is an exhaust after treatment device to reduce NOx. SCR spreads aqueous urea solution (AUS 32) into the exhaust stream. Ammonia from AUS32 combines with NOx in presence of catalyst to form harmless by-products like nitrogen and water vapor. Thus emitting clean gases. SCR technology is better positioned for heavy duty cycles (e.g. long haul heavy trucks & tractors, intercity bus etc.)
What is a SCR System?

The Selective Catalytic Reduction (SCR) system is an advanced exhaust after treatment system to reduce NOx. The engine controls the production of PM by increasing the combustion temperature thus limiting it within the permissible value. NOx increases while doing so, which is then controlled outside using a catalytic reduction process. SCR spreads aqueous urea solution (AUS 32) into the exhaust stream. Ammonia from AUS32 combines with NOx in presence of catalyst to form harmless by-products like nitrogen and water vapor. Thus emitting clean gases.
SCR System Working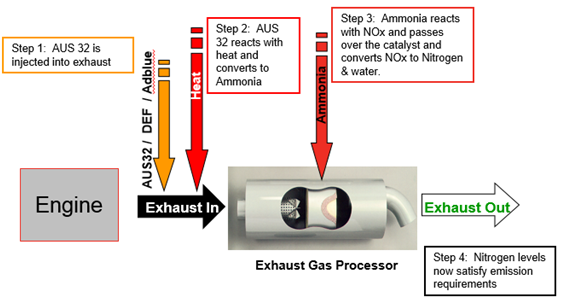 How is a SCR engine beneficial?
The SCR system is a simple system that offers better power and higher fuel economy due to higher combustion efficiency. Clean combustion ensures higher reliability of engines. A robust system to deal with lower quality of fuel and provides the customer a longer engine life. It offers higher maintenance intervals AUS 32 - The SCR system requires an aqueous urea solution (AUS 32) that is injected using a dosing pump. The solution is known by different names across the world- In North America it is referred to as Diesel Exhaust Fluid (DEF), in Europe as AdBlue and in India as AUS 32. The solution is suitable for use in Indian climatic conditions.
Cummins ISB5.9 BSIV SCR Engine Specifications: