Cummins offers the PowerDrive™ 7000 EV to rapidly enable school bus manufacturers to quickly create electric school bus solutions. The PowerDrive vehicle developers kit and support program offers OEMs a robust framework to quickly create all-electric school buses.
All-electric, zero-emissions
120-mile all-electric range
Comparable or better vehicle performance to conventional engine
Reduced service and maintenance costs
Meets Federal Motor Vehicle Safety Standards (FMVSS)
EPA and California Air Resources Board Certified (CARB)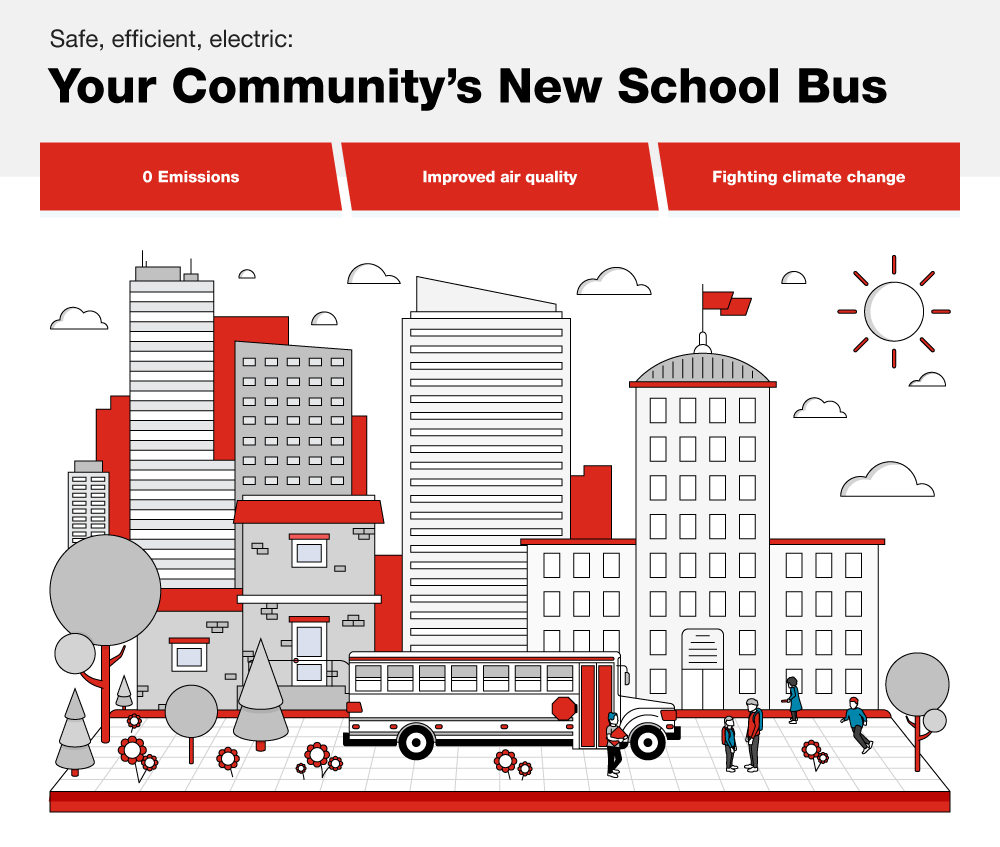 With the market-leading EV system, customers can eliminate emissions and reduce fuel and maintenance costs all while maintaining vehicle performance.
Reduced Service and Maintenance
The PowerDrive electric motor is maintenance fee eliminating downtime and costs associated with maintenance. 
No engine oil changes
No engine air filter change
No smog check/testing
No spark plugs, glow plugs or coil replacements
No degradation of the air intake/vacuum system
No fluid check or change associated with transmission
Brake pad change interval gets much longer
Fewer coolant changes needed
Optional PowerDrive Modules
Power2E™
Bi-directional power module, allowing PowerDrive PHEV and EV to provide up to 200kW of grid-quality power. 
Plug in anytime, anywhere for:
| Emergency Power | Charging Other Vehicles | Running Job Site Tools |
| --- | --- | --- |
| | | |
PowerSuite™
Modular in design, the control software can be configured to support a wide variety of drivetrain architectures, components and vehicle layouts.
State-of-the-art software controls to optimize complex drivetrain and battery system functions
Fault detection and related management features to support optimum fuel economy and emission reductions
Tracks and analyzes vehicle data to continually monitor and optimize fleet performance
---
Financial Subsidies for Electric School Buses
School buses serve as one of the largest mass transit segments in the US and are among the oldest fleets on the road today. The industry at large is looking to move to zero-emissions options to improve air quality and reduce exposing children and local communities to emissions. Paired with available government subsidy and incentive programs to reduce greenhouse gas emissions, school districts benefit from low cost of ownership and sustainable transport for students.
A wide variety of financial incentives are available for electric vehicles. School districts may use Energy.gov to research applicable federal, state and local funding opportunities that may apply. Additionally, local and state entities in California are at the forefront of providing financial opportunities for electric and alternative energy programs. The financial opportunities for California school buses have been aggregated and are available through the California Air Resources Board.