Cummins is the only manufacturer focused solely on medium- to heavy-duty diesel engine turbo technologies. For more than 60 years, we have delivered innovative, reliable turbocharger solutions for our customers. Our vision for turbocharger solutions, thanks to our rich company heritage derived from our Holset® brand, sets us apart as a technology leader.
Commercial diesel engines require advanced technologies that deliver efficiency and meet strict emissions requirements. Our fixed, wastegate, variable, two-stage, turbo-compounding and waste heat expander technologies were specifically developed to deliver higher efficiency and lower cost.
Today, Cummins Turbo Technologies engineers are actively developing state of the art solutions for the next generation, including assisted turbocharging, new bearing systems and enhanced compressor stage performance.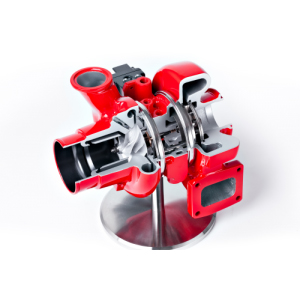 Meet the new 7th generation series 400 variable geometry turbocharger
Launched in 2021, the 400 series VGT offers 5% higher turbocharger efficiency compared to its predecessor. The leapfrog innovation is the combined effect of a multi-clearance shroud design and new wheel options to provide higher turbine efficiency. The latest HE 400 VGT will help engine manufacturers meet upcoming emission standards and offer best in class fuel economy.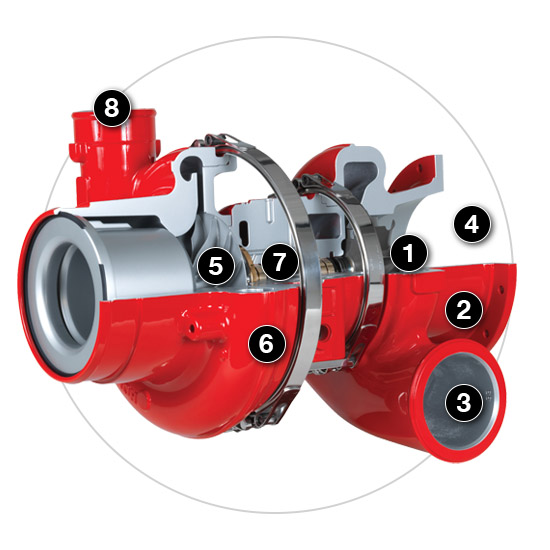 Turbine wheel
Turbine housing
Exhaust gas inlet
Exhaust gas outlet
Compressor wheel
Compressor housing
Bearing system
Compressed air outlet