President Distribution Business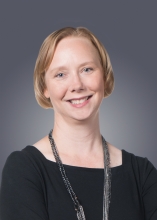 Tracy Embree is the Vice President and President of Cummins' Distribution Business. With approximately 16,000 employees worldwide, Tracy sets the strategy and direction for the segment, focusing on critical opportunities that will continue to enhance the sales, service and support experience for Cummins' customers and certified dealers globally.  
Beginning her career at Cummins in 2000, Tracy has extensive cross-functional and cross-business unit experience. Prior to leading the Distribution Business, she led the Components Segment. Tracy also served as President of Cummins Turbo Technologies and worked in the Midrange Engine Business where she was responsible for the on-highway line of the business. 
In addition, Tracy has held marketing and sales positions in the Emission Solutions and Filtration Businesses and served as Executive Director of the Chrysler business. She also spent two years in the Power Generation Business as General Manager for the Energy Solutions Business based in Kent, U.K. 
Tracy graduated from the Massachusetts Institute of Technology (MIT) with a bachelor's degree in chemical engineering and holds an MBA from Harvard Business School. 
Commitment to the community is a passion of Tracy's, reflected in her service on the Board of the Cummins Foundation. She is also an active participant in the Cummins Women's Affinity Group, spending significant time in personal and small group mentoring activities. In addition, Tracy serves as a Board member for the Louisiana-Pacific Corporation (NYSE: LPX).