President and Chief Operating Officer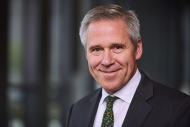 Tony is the President and Chief Operating Officer of Cummins Inc. He assumed the role in October 2019, succeeding Rich Freeland.
Tony has led two of the company's business segments. Prior to his current role, he was the President of Cummins' Distribution Business, which provides unparalleled service, sales and support and a respective support network to customers worldwide, employing approximately 16,000 people.
He managed Cummins Power Generation from 2008 to 2015. Under his leadership, the business segment engineered the power industry's only full range of large stationary generator sets to meet the U.S. Environmental Protection Agency's Tier 4 standards, as well as the stricter Tier 4 Final requirements effective in 2015. The business won major new military contracts, expanded the product footprint and invested in new technologies.
Before joining Cummins in 1988, Tony was a General Field Engineer for Schlumberger. He has traveled extensively and lived in Asia, Europe and the US, allowing him to gain a global view of our customers and operations.
Tony holds a master's in business administration from Stanford University and an undergraduate degree in civil engineering from Cornell University. In addition, he is a graduate of the first Cummins Executive Leadership Development program.
Outside of Cummins, Tony is a Director of IDEX Corporation (NYSE: IEX) where he chairs the Compensation Committee and is a member of the Nominating and Corporate Governance Committee. He is part of the Cornell Engineering Advisory Council, a group that advises the Dean of the Engineering College.  Tony and his wife live in downtown Indianapolis.