President Engine Business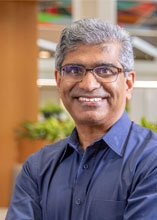 Srikanth Padmanabhan is President of the Engine Business, the largest of Cummins' five business segments. In this role, he pushes the boundaries of customer-focused innovation to position Cummins as the leading powertrain supplier of choice, with its portfolio ranging from diesel and natural gas to hybrid, battery electric and fuel cell electric powertrains. In 2021, Srikanth and the team successfully drove the nearly $10-billion business to achieve profitable revenue growth and manufacture close to 1.5 million engines globally.
In his 30 plus years at Cummins, Srikanth has been passionate about bringing quality, innovative and energy-efficient products to life for customers, ensuring they have the right strategy and technologies to power their line of work. He has led a number of businesses across the company, including Vice President of the heavy duty, midrange and light duty markets, President of Cummins Emission Solutions, Managing Director of Cummins Generator Technologies based in Stamford, England, Country Manager of Cummins Filtration Mexico, and various leadership roles in Cummins Fuel Systems. As a diverse global leader, he has lived and worked in India, United States, Mexico and the United Kingdom.
Srikanth holds a bachelor's degree in Mechanical Engineering from the National Institute of Technology in Trichy, India and a PhD in Mechanical Engineering from Iowa State University in Ames, Iowa. He is also a graduate of the Advanced Management Program from Harvard Business School. He is a distinguished alumnus of his undergraduate institution and the recipient of the Professional Achievement Citation in Engineering (PACE) award from Iowa State University's College of Engineering.
Srikanth serves on the board of directors for Leggett & Platt Inc. (NYSE: LEG). He is also on the board of the American Transportation Research Institute (ATRI). Additionally, he is a board chair on the Community Education Coalition in Columbus, Indiana, and a member of the board of advisors for Indiana University-Purdue University Columbus.
Srikanth and his wife Usha live in Columbus, Indiana with their daughter Megna away in College.