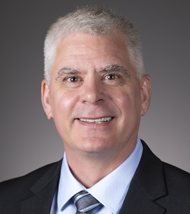 Jim Fier is Vice President and Chief Technical Officer at Cummins. Fier is passionate about building teams with a commitment to deliver quality products. In his role as CTO, Fier leads the global technical organization of approximately 11,000 employees responsible for research and engineering across Cummins.
Fier has spent his entire career at Cummins, gaining broad technical knowledge and leadership experience while accelerating the development and launch of the company's market-leading engine platforms and innovations. Most recently, he served as Vice President of Engineering - Engine Business Unit. He was responsible for the teams that supported current products, as well as new product development for Cummins' product lines from 2.8L through 15L. 
Fier began his career with Cummins in 1986 after earning his Bachelor of Science in Agricultural Engineering from North Dakota State University. At Cummins, he is the sponsor for the Leading Inclusion for Technical (LIFT) initiative as well as the Cummins Millennial Employee Resource Group (MERG). Fier has served as a board member for several of Cummins' joint ventures in Europe, India, and China. He is a member of the Society of Automotive Engineers. He received the Cummins' Dr. Julius P. Perr Innovation Award for work on the patented system to control regeneration of exhaust aftertreatment components. 
Residing in Columbus, Fier lives with his wife M'Liss and has been active in the community serving as a member of the Columbus Regional Hospital Foundation board, youth coach, and community volunteer.