President Power Systems Business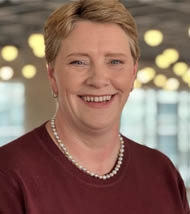 Jennifer (Jenny) Bush is President of the Cummins Power Systems Business, a global provider of energy solutions for consumer, industrial and mission critical applications that designs, manufactures, sells and supports a wide range of highspeed, high horsepower engines and power generation equipment. Jenny oversees a global, diversified business segment with sales of $4.4B in 2021 and more than 10,000 employees.
Most recently, Jenny served as Vice President, Cummins Sales and Service North America where she led the transformation of the company's North American Distribution business. Under her leadership, Jenny and team enhanced employee engagement, streamlined operations, accelerated growth, elevated the customer experience and achieved cost savings.
After completing a technical apprenticeship with Shell Oil as the program's first female graduate, Jenny joined Cummins in 1997 as a parts writer. She has contributed to the company's success in various leadership roles spanning power generation, industrial markets and distribution. Jenny's broad career experience includes serving as a Six Sigma Blackbelt in Power Systems, leading the Global Commercial Marine Engine business and directing key distribution markets in the U.S. She possesses deep expertise in large industrial markets including the commercial marine, oil and gas and mining segments.
A native of the U.K., Jenny earned a bachelor's degree in mechanical engineering from Wirral Metropolitan College and an MBA with a concentration in International Marketing from Leicester University. Jenny serves on the boards of Century Aluminum as health, safety and sustainability chair and Youth Villages, a non profit providing help for children and young people across the U.S. who face a wide range of emotional, mental and behavioral problems.