President New Power Segment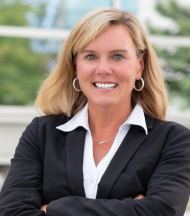 Amy Davis is Vice President and President – New Power Business at Cummins Inc. In this role, Amy leads the company's fifth and newest business segment, which pioneers and manufactures emerging and cutting-edge alternative power technologies.
Amy joined Cummins in 1994 and has held numerous leadership roles across the company. Prior to her current role, she served as Vice President of the $1.2-billion Filtration business, where she achieved record revenues and profits. Amy previously served as President of the Cummins Northeast distributor as an owner, where she transformed a small business into a high-growth, customer-driven operation and again saw significant revenue and profit increases. She also lived and worked in Europe as Manager of the European bus business and went on to lead Marketing Communications, Market Strategy, Planning and Customer Support Excellence for our global engine markets, then served as Executive Director of the global $3B+ medium duty truck business.
Outside of Cummins, Amy held positions at the AT&T Corporation and more recently at Alcan Corporation, serving as Vice President - Sales in the Global Aerospace and Transportation Business.
Amy graduated from Northwestern University with a bachelor's degree in English. In 2004, she completed the Executive Program for Marketing Strategy at the University of Chicago Booth School of Business.
Amy is passionate about encouraging and empowering female leaders in the workplace and completed the Women's Director Development Program at Kellogg Executive Education. She and her husband Dan have four children and enjoy spending time boating and water skiing.