World's Largest Farm Fish Boat
Cummins Vessel Reference #594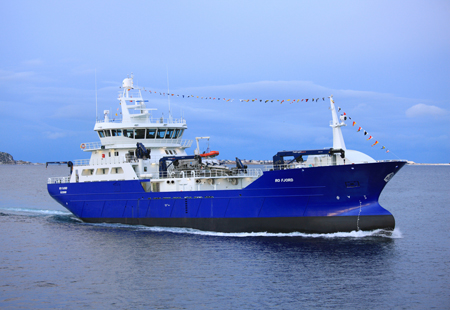 A major concern in moving live fish from hatchery to farm or from the farm to a processor by boat has been the danger of transmission of disease or sea lice. The Norwegians have long taken leadership both in the development of farms and in acknowledging such concerns.
With two cargo wells having a total volume of 2750 cubic meters, the recently delivered Ro Fjord is the largest live-transport well-boat in the world. The vessel has built-in extra precautionary measures to safeguard Norwegian coastal waters. A 50-micron filtration system with UV radiation treats shipping water prior to its return to the sea. MMC Tendos in Fosnavåg supplied much of the boat's state of the art fish-handling system. It consists of vacuum pump for live fish, fish counter, a refrigerated saltwater system, tracking and monitoring system, equipment for the addition of oxygen plus the UV filter for the return-water. A tank cleaning system was supplied by Redox. This latter firm won the Innovation Prize at Aqua Nor 2009 in Trondheim for their innovations in the area of live fish transport and reducing the risk of spreading disease in well-boat transport.
All of these systems require significant auxiliary power over and above that normally found on a 72 by 66.6-meter vessel. So in addition to the MAK 6M25 main engine, the Ro Fjord is fitted with three Cummins-powered auxiliaries. These include two KTA38DM1 powered generator sets with a 936 kW each and one emergency/harbour generator set powered by a Cummins QSM11DM with 320 kW output. The two Cummins KTA38DM1 provide power for a wide range of services including the steering gear and two tunnel thrusters.
The Ro Fjord was delivered to her owners, Rostein AS, at the end of 2009. the hull was built in Poland, but finishing and outfitting were done at the shipyard of Larsnes Mek, Verksted to a design by Skipskompetanse AS. Naval Consult AS did production drawings and calculations. It is anticipated that the boat will take about 400 tons of live fish, according to general manager of Rostein, Odd Einar Sandøy. The cost of the complete vessel for Rostein AS is estimated to be about 180 million Norwegian kroner (30 million USD).
Accommodation is provided for six crew members and the vessel is classed by Det Norske Veriatas (DNV) +1 A1, E0
For further information:
Jarl Gunnar Stein
Managing Director
Larsnes Mek Versted AS
Holment, 6084 Larsnes
Phone: 47 700 26400
Heidi Hellesvik
Sales Manager
Cummins Norway AS
Osloveien 20, N-1430 Ås
Postboks 97, N-1431 Ås
T: 47 64 97 45 00
D: 47 64 97 45 21
C: 47 996 07 672
F: 47 64 97 45 01
Web: cummins.com
Sjoerd Spronck
Advertisement & Promotion
Scandinavia & Benelux
Cummins Holland B.V.
Olivijn 800, 3316 KH Dordrecht
Postbus 520, 3300 AM Dordrecht
T: 31 0 78 618 12 00
F: 31 0 78 617 65 79
Web: cummins.com