A Worker to Explore the Seabed
Cummins Vessel Reference #564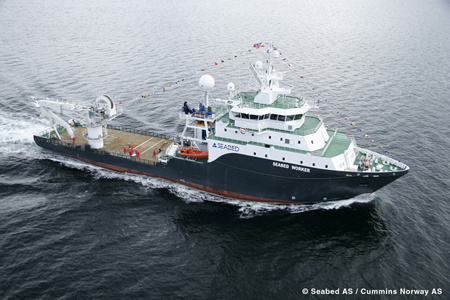 Seabed Worker, Photo courtesy of Seabed AS/Cummins Norway AS
Mariners have become accustom to seeing ever more complex and sophisticated vessels launched in support of the petroleum exploration industry. A new level was set this year when the Norwegian yard Fjellstrand AS launched the multi-purpose offshore vessel Seabed Worker for Seabed AS of Begen Norway.
The DP2 classed vessel has two 2500 kW stern-mounted Voith propulsion units, a Rolls Royce 1000-kW tunnel bow thruster and a Rolls Royce 1000-kW retractable azimuthing bow thruster. Power for these electrically driven propulsion motors is provided by four Cummins QSK60 DMI-driven 1800 kW generator sets. The 88.8 by 16-meter vessel is packed with sophisticated equipment including two hydro-acoustic positioning reference systems and very broad suits of navigation and communications systems.
A ROV-hanger, situated aft of the accommodation area can be closed to provide a protected area for storage, maintenance and handling of the ROV. The 5.4 by 6-meter moon pool is fitted with a sliding hatch. Both the vessels two ROV launchers are fitted with active heave compensated winches with 4500 meters of umbilical capacity.
For more information:
Sjoerd Spronck
Advertisement & Promotion
Scandinavia and Benelux
Cummins Holland B.V.
Olivijn 800
3316 KH Dordrecht
The Netherlands
Tel: 31 78 6530 927
Fax: 31 78 6176 579
Web: cummins.com | cummins.nl