Cummins Vessel Reference #638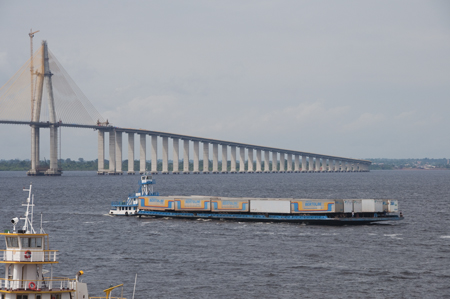 Lowlands that can make road building difficult border the 1,495 kilometers of river that flow between Belém and Manaus. The roads to Manaus are long and circuitous. With the world's highest volume river flowing between the cities the movement of truck trailers typically takes place with the aide of roll on roll off barges. The one of the largest operators on this route is Bertolini Transport Ltda. The firm also pushes barges another 1,756 kilometers up to Tabatinga on the Peruvian border. To meet the demands on these and a half dozen other routes, the company operates a large fleet of pushboats. This includes over 20 vessels with Cummins KTA-M3 engines each producing 600 HP at 1800 RPM.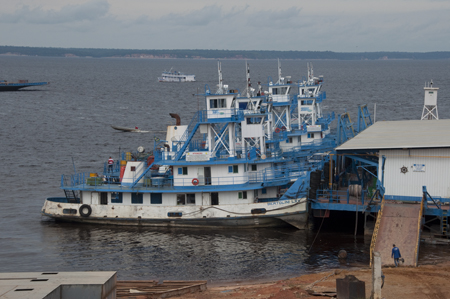 A small part of the Bertolini fleet at the company shipyard in Manaus.
A 1200 HP towboat, powered by a pair of KTA19s will typically push a 76 by 20.9-meter barges loaded with truck trailers. The down-river trip takes about four days with the return up river taking about five days. Some larger towboats, such as the triple KTA19-powered M/V Bertolini LVIII, can push multiple barges on the larger river or handle shallower rivers. These larger tows often use a detachable "bow thruster" also powered by a Cummins KTA19. On smaller and faster waterways single barges allow transport.


For Further information:
Transportes Bertolini Ltda.
Manaus, Brazil
Phone: 92 2125 1000
E-mail: [email protected]
Web: www1.tbl.com.br/portfolio/index.php
For further information on Cummins Marine in Brazil:
Waldemar Marchetti
Marine Business Manager
South America and Mexico
São Paulo, Brazil
Phone: 5511 2186 4778
E-mail: [email protected]
And for Cummins Marine in Manaus:
João M. N. Mendonça
Marine Business Manager
Powertech Comercial Ltda.
Av. Efigênio Sales, 1717-P.10
Manaus, Amazonas
69.060-020, Brazil
Phone: 55 92 2121 8000
Cell: 55 92 8116 5613
E-mail: [email protected]
Web: www.powertech-am.com.br