Versatile Harbour Tug with Cummins QSK60
Cummins Vessel Reference #816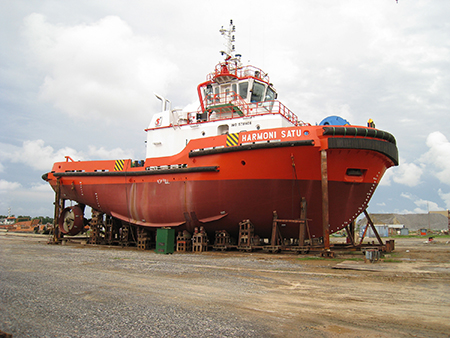 The Azimuthing Stern Drive (ASD) format has become the norm for a great many tugs working in vessel assist around the world's ports. They now far outnumber the full tractor tugs with the azimuthing drives set forward under the house as do they the cycloidal drive tugs. Often, the ASD tugs are dedicated ship-handling units with a single hawser winch forward. However, a lot of owners, looking to maintain diversity of applications and markets are adding a towing winch aft as well.
Sealink Marine Shipyards have recently, June 2017, launched one of these versatile tugs from their facility in Miri, Sarawak, Malaysia. The 32 by 11.8-meter tug has a 5.2-meter molded depth. Mounted forward it a Macgregor: MG-HAT/GDG22-0115U02080 combination anchor and hawser winch with 150-ton braking. Mounted aft is aMacgregor: MG-HTW1-0218008048 towing winch also with a 150-ton holding brake.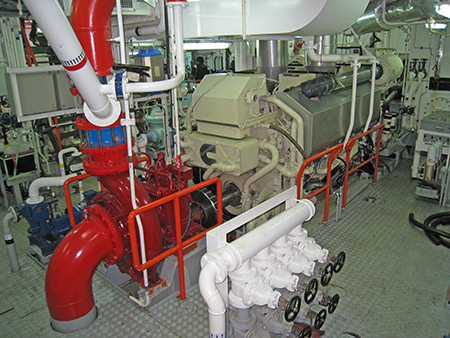 One of the Cummins QSK60 mains with front mounted fire pump.
Power for this capable vessel derives from a pair of Cummins QSK60M diesels each generating 2300 HP at 1900 RPM. These turn 2.4-meter controllable pitch propellers on Rolls Royce azimuting drive units. This power gives the tug a 57.56-ton bollard pull ahead, a 53.87-ton bollard pull astern and a 13.6-knot free running speed. Cummins' Sales Manager in Miri, explained that, when compared with medium speed engines, "The high speed Cummins QSK60M diesel engines have better response during maneuvering and the Cummins QSK60M, with integrated systems; allows for more free space in the engine room."
A pair of 110-kW Cummins QSB7-DM-powered generators provides electrical power. For additional versatility the tug is fitted with a dispersant system to comply with MARPOL I, IV, V, and VI. External fi-fi capability is provided by two 141 cubic-meter-per-hour monitors supplied by a fire pump with power takeoff from the main engine.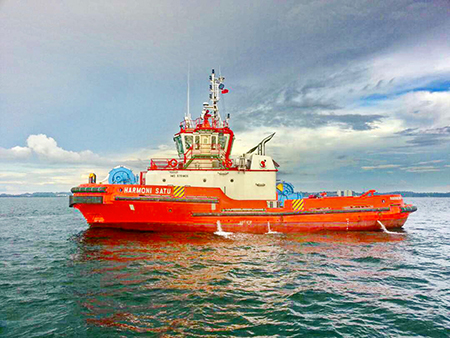 Ready for work.
The one-man operation bridge has a 360-degree view along with extensive electronic navigation and communications equipment. Accommodation for up to eight crewmembers is provided in two one-person and three two-person cabins. All accommodations are centrally air-conditioned.
For ship-handling the bow fendering included D-fendering all round with W push bow and pilot boarding platform. Class notification if ABS + A1, +AMS, Circle E, FFV1 and Towing Vessel (Harbour Service, Towing Service)
For further information:
Ms. Lau Soo Moi
Sealink Sdn. Bhd.
Director, Marine Division:
Tel: 6085 651778
Fax: 6085 652480
E-mail: [email protected]
MeuThat Chong
Cummins Sales and Service Sdn Bhd
Lot 1524, Block 3 MCLD, Piasau Industrial Estate,
98000 Miri, Sarawak Malaysia
Tel: 6085 657850
Fax: 6085 657252
Mobile: 6013 8336357
E-mail: [email protected]