TWIN CUMMINS QSL9'S POWER TIER III FERRY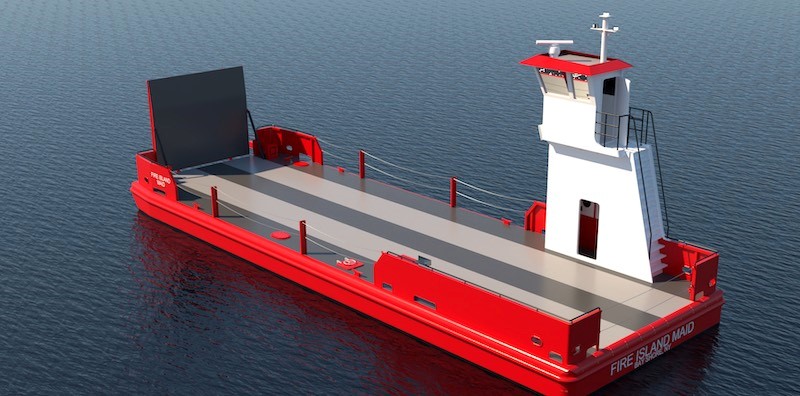 The newest passenger vessel for Fire Island Ferries, the "Fire Island Maid" is powered by Cummins QSL9's, with electrical power provided by a Cummins Onan MDK generator. The vessel operates primarily from Sayville to the fire island pines, taking passengers on an efficient and comfortable journey.
The new Tier III compliant vehicle ferry designed by Elliott Bay Design Group is a 70-by-23-foot vessel in build at Metal Shark, Alabama. Featuring a steel hull and aluminum superstructure, a hydraulically operated bow ramp and reinforced deck support for fully loaded concrete trucks and general cargo.
Power Package Punch
The Cummins QSL9 engines combine high strength with a compact footprint for one of the best power-to-weight ratios in its class, with minimal impact on the cooling package.
The engine and exhaust system are totally integrated for optimized fuel economy above the five percent achieved with Tier 4 Interim engines, achieving near-zero emissions simultaneously.
The single, higher-capacity Electronic Control Module (ECM) provides seamless integration of all components to optimize engine performance, controlling everything from air intake to exhaust aftertreatment.
Cummins Xtra-High Pressure Injection (XPI) fuel system provides more efficiency for the 400-hp heavy-duty output of the QSL 9-liter engine, increasing power output and lowering fuel consumption while reducing noise and engine vibration.
Equipped with electronic controls, Cummins Fleetguard fuel filters feature nanotechnology-based media, removing 98.7-percent of all particles. The EcoFit Diesel Oxidation Catalyst (DOC) achieves near-zero emissions with fully passive, flow-through operation, beneficial for space-constrained installations.
Quiet Generators
Acoustic shields provide a soundproof enclosure minimizing noise, and an optimized mounting system reduces vibration. The Cummins Onan single phase 17.5 KW marine generator with 1500 rpm motor is super-silent, built with a Cummins 4-stroke diesel-powered engine. Ideal for limited space installation, the compact alternator is 4-pole with insulation class H and AVR voltage regulator.
The QD (Quiet Diesel) series digital models are the first marine generators with self-monitoring and network communication capabilities. Optional digital displays offer user-friendly diagnostics with detailed engine and alternator information, self-diagnostic functions and text displays.
Cummins Support
Fire Island Maid is easily serviceable in New York, but no matter where your workboat operates, the Cummins parts and service network is the world's largest with over 6.600 Cummins distributor and dealer locations. Each authorized location maintains a full inventory of Genuine Cummins new and ReCon® parts. Certified by the U.S. Environmental Protection Agency (EPA) (60 Hz models only).