A recent report by the Ghana Ports and Harbour Authority states, "Total cargo traffic for both ports (Tema and Takoradi) grew from 19,459,834 tonnes in 2016 to 22,086,626 tonnes in 2017, registering a 13 per cent increase. Transit cargo in both ports also increased from 944,081 tonnes in 2016 to 1,249,336 tonnes in 2017, a rise of 32 per cent. Container traffic for both ports rose from 942,463 TEU in 2016 to 1,009,755 TEU in 2017, registering a seven per cent increase."
These dramatic increases have prompted port expansion projects. Important in this expansion is the addition of three new ship-docking tugs for delivery by the end of 2019. The tugs are currently on order from the Turkey-based TOR Group of Companies who have, in turn, contracted Robert Allan Ltd. of Vancouver for the design of the RAstar 3300 series Tugs.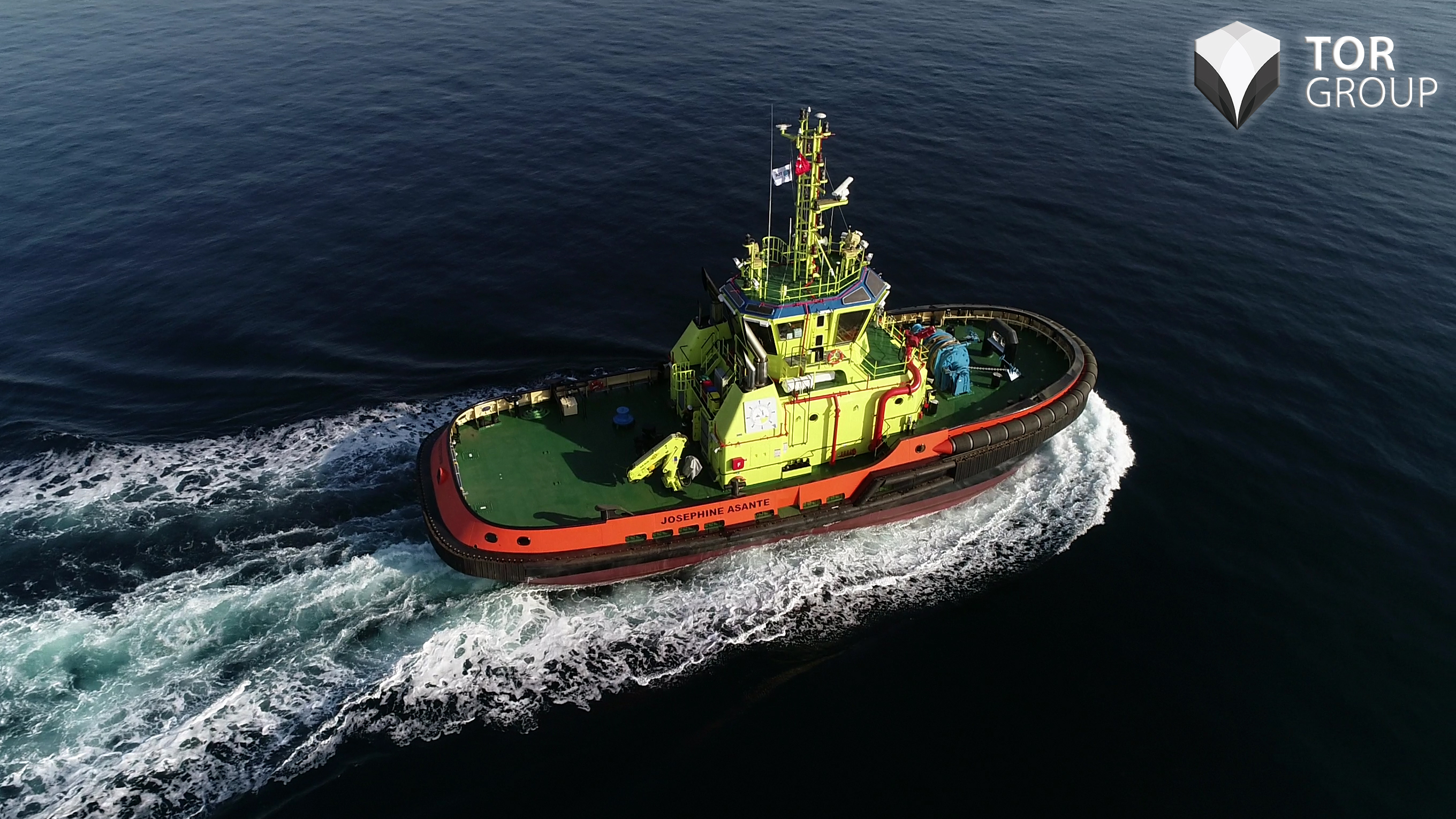 Each of the new tugs will be 32.8 by 12.9-meters with a depth of 5.37 meters. A pair of Cummins QSK 95 engines will power a pair of Rolls Royce US2555 P30 FP azimuth thrusters. The V-16-cylinder, 95-liter main engines, each developing 3600 BHP (2,685 kW) at 1700 RPM, were introduced by Cummins several years ago and have found acceptance in high speed applications such as catamaran crew boats, and fast ferries, and are well suited for ship docking tugs. The drives will have 2800 m/m diameter propellers in nozzles. The power combination is designed to give the tugs an 80-ton or greater bollard pull and speeds up to 13 knots.
A dedicated fire pump engine will provide the required power to meet Fi-Fi 1 standards with Cummins QSK38-M 1595 BHP (1190 kW) variable speed at 1800 RPM while also providing a protective water spray. On deck, a Rolls Royce hawser winch will be mounted forward for ship work while a Mampaey quick-release towing hook will be mounted aft for occasional towing jobs.
Electrical requirements of each tug will be met with a pair of Cummins QSB7DM-powered generators producing 170 Kva  kW 136 kWe at 1500 RPM 50 Hz. Bureau Veritas will class the tugs for unrestricted navigation and FiFi1 fire-fighting notation. Tankage for fuel will be 180.5 cubic meters, for water 35.8 m3 and for lube oil 2.2 m3.
For further information:
Ghana Ports and Harbours Authority
P. O. Box 150.Tema.Ghana.
Tel: +233 (0) 303 202631-39.
Fax +233 (0) 303 202812
Email: [email protected].
Website: www.ghanaports.gov.gh
Mr. Halil Aytac
Tor Danizcilik
Aydıntepe Mah. , Guzin Sok., No:13
34940, Tuzla, İstanbul, Turkey
Phone 0090 216 494 1606'
E-mail: [email protected]
Jennifer McQuilken
Marketing Communications, Global Marine and Oil & Gas
Cummins Inc.
4400 Leeds Ave. Suite 300
Charleston, SC 29405
843-696-9534
E-mail:  [email protected]