Teck and Cummins Raise the Benchmark for QSK60 Haul Truck Engine Life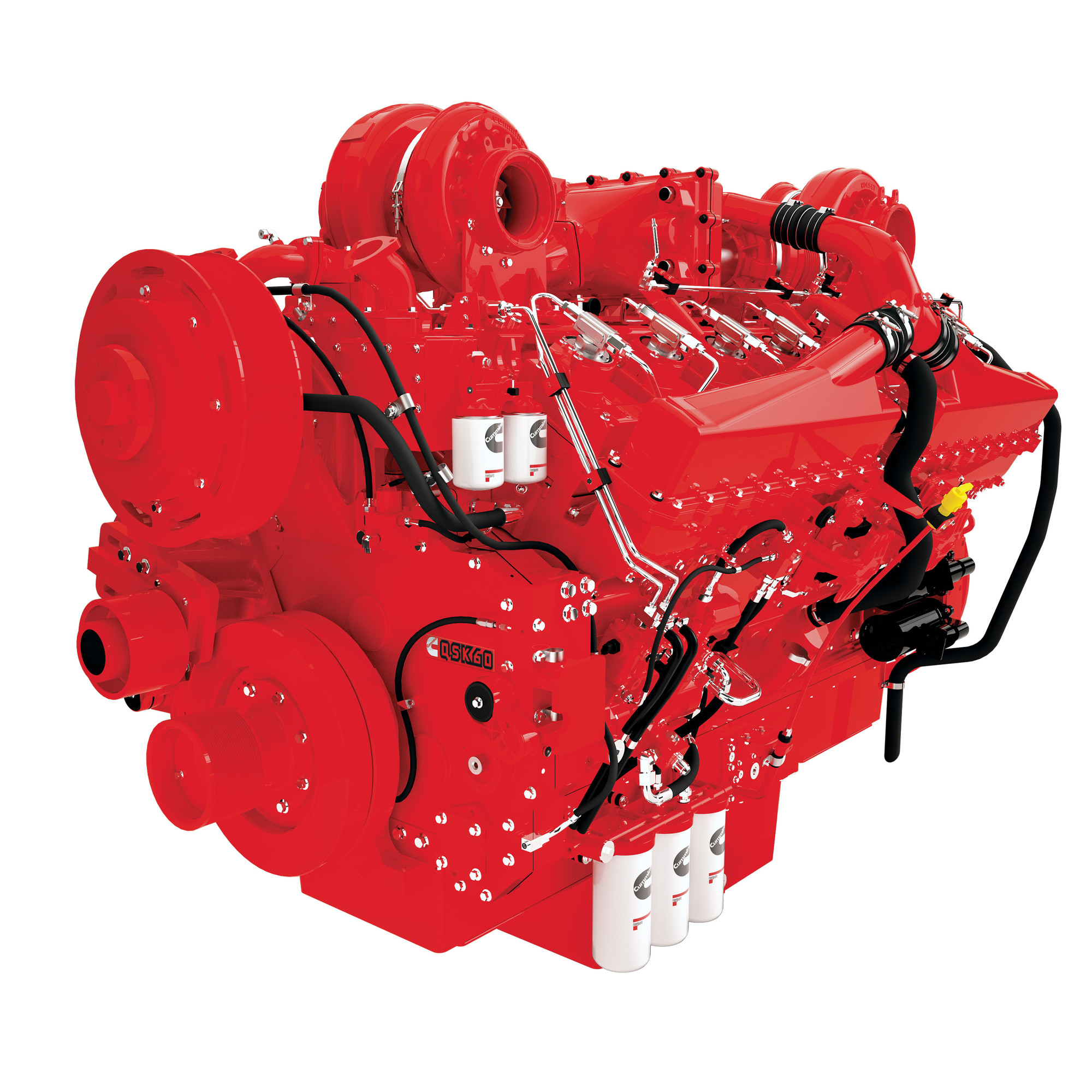 Data-Driven Maintenance Doubles QSK60-Powered Haul Truck Engine Life Over Past 6 Years, Saving More Than $3.5 Million.
Teck is Canada's largest diversified resources company, with major business units focused on copper, steelmaking coal, zinc and energy. Their fleet includes 111 Komatsu 930E haul trucks mostly powered by Cummins QSK60 engines at three of their steelmaking coal operations in Canada.
Teck has applied data-driven approaches to engine maintenance to achieve a notable improvement in engine life and an associated reduction in annual engine replacements. The combination of proactive monitoring procedures, late life audits and economic assessments have doubled the average life of Cummins QSK60 engines since 2012, including an increase from 24,000 SMU hours to nearly 30,000 SMU hours since 2014 alone.
During this same four-year period, Teck's annual replacement of engines has dropped from 32 to 26 in the Komatsu 930E fleet - delivering over $3.5 million in value by reducing costs and boosting asset utilization, productivity and profits.
Building a Strong Foundation for Success.
Three key operating principles fueled this remarkable achievement:
Strong Leadership: The innovative spirit of Teck's Sparwood Reliability Team and strong collaboration with Cummins provided breakthroughs in new strategies to maintain engines.
Data-Driven Decisions: The proactive discipline of evaluating data and developing solutions/alternatives for the maintenance strategy allowed for better decision-making in high-stress equipment-down situations.
Proactive Investigation: The process involved root cause analysis of failures and detailed condition reviews of failed and operating engines to identify the internal parts that limit the life of the engine. As each life-limiting factor was identified, a maintenance strategy or engineering design change was developed to minimize the engine's exposure to failure.
The Right Data Drives the Right Decisions.
Central to the new maintenance strategy are three core tools:
Asset Health Report: A routine review of oil analysis information, maintenance history, and engine performance is undertaken to estimate the remaining life of key components and to establish the probability of a surprise engine failure if the engine continued to operate.
Late Life Audits: A detailed review of the engine maintenance history and a thorough inspection of the engine is undertaken to determine the benefit and cost of extending engine life.
Economic Assessment: An economic model is used to evaluate alternative repairs specific to an engine's condition and the risk of extending engine life. This ensures that repair costs to extend engine life are optimized so that unit costs are the lowest possible.
22 Percent Increase in Average Life Over The Last Four Years.
As you can see from the chart below, the average life of Cummins QSK60 engines has been steadily increasing over the past four years. The combination of a rigorous maintenance program with continuous product improvement have significantly extended engine life and dramatically reduced the number of engine replacements per year.
 

2014

2015

2016

2017

Average Life (SMU hours)

24,150

25,150

28,750

 

29,500

Number of Trucks

111

111

111

111

Annualized Replacements

31.7

30.5

26.6

26.0
Managing the Unexpected.
The biggest challenge of extending engine life was the concern that it could increase the number of unscheduled failures. However, the data in the diagram below demonstrates that the shift to condition-based change outs actually reduced failures. As the operating hours increased using this program, the number of failures and, therefore, unscheduled engine changes decreased.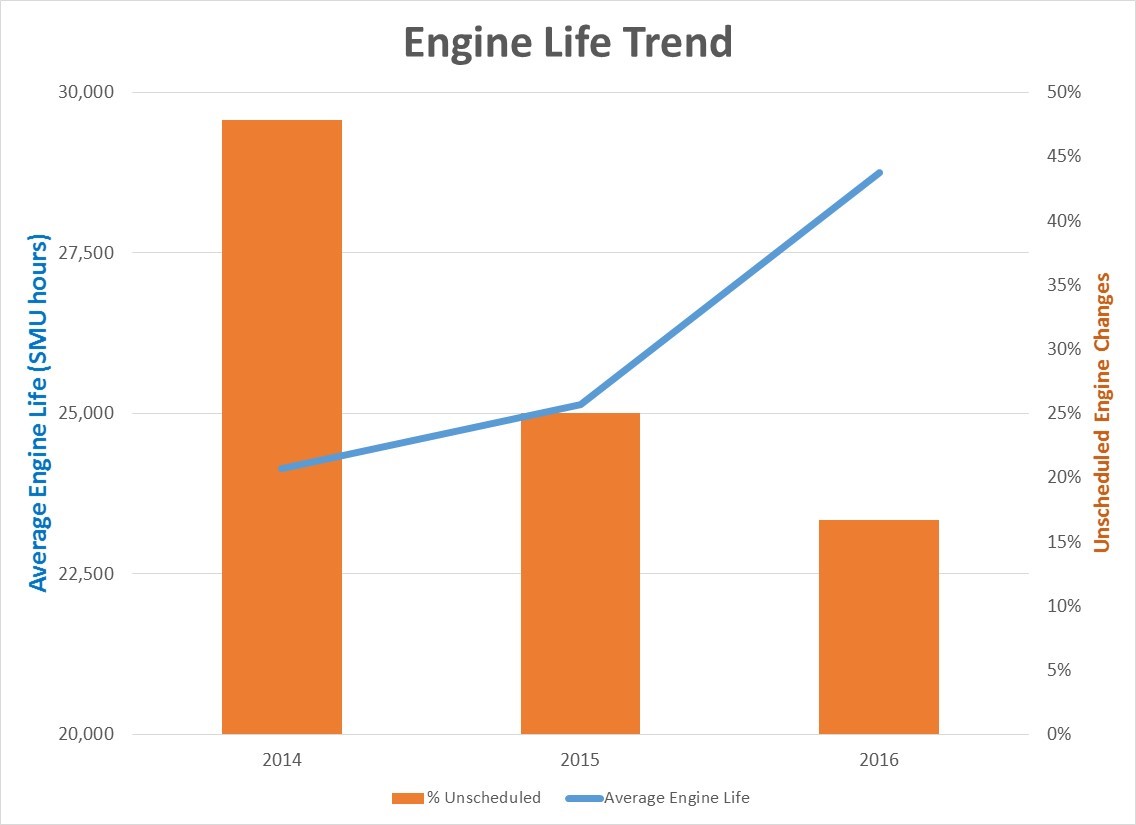 Setting a New Benchmark for an Entire Industry.
Recently, Teck replaced a QSK60 engine that achieved a life of 35,270 SMU hours with a cumulative fuel burn of more than 1.6 million U.S. gallons. This is nearly 50% more than the typical target life of between 1.0 to 1.1 million U.S. gallons. In the past few months four individual QSK60 engines at Teck coal sites have achieved more than 1.5 million gallons burnt and 35,000 SMU hours. All four were changed on a scheduled basis and all four were in good operating condition when changed. A wave of similarly high-hour engines are moving through the fleet and will drive a further increase in average engine life in 2018. This is the highest routine-engine-life ever achieved within Teck and, to the best of our knowledge, of any mine site around the world.
New Procedures Reap Big Benefits.
The new engine strategy began implementation in 2015 and has reduced annual engine replacement costs across the fleet by more than $3.5 million per year. Other truck related improvement initiatives have delivered results that include the following:
Improved Haul Truck Availability— From 2011 to 2015 the average lifecycle availability has improved from 79 percent to 85 percent
Reduced Maintenance - Average maintenance labor hours per production hour have decreased by 28 percent
Increased Truck Productivity— A new Haul Truck Speed Report now compares each haul truck's speed to the fleet in the same haul cycle, proactively identifying engines in need of maintenance.
Expanded Application - The principles of taking a disciplined and data-driven approach to a condition-based component strategy is being cascaded to other components. This has already resulted in improved life on wheel motors and other components.
Bill Lapp, Vice President of Mining and Oil and Gas Business, Cummins Sales and Service commends the exceptional results delivered at Teck:

"Teck has truly raised the benchmark life for all Komatsu Cummins QSK60 engines operating in Komatsu 930E haul trucks," he says.