STX Emergency Gen-Sets: A Vital Component
Cummins Vessel Reference #584
A Cummins QSK60-D(M) powered 1,700 kW emergency generator ready for shipment from the STX facility in Korea. Photo courtesy of STX.
Relative to the huge MAN B&W ship engines manufactured at the STX Engine Company factory on the southern coast of South Korea, their emergency generators are small in size. But in the event of a crisis on a deep-sea container, bulker or tank ship, they can literally be lifesavers. This is, of course, the reason that the IMO has mandated their installation in the upper decks of all new ships.
The great majority, approximately 70%, of emergency generator sets installed in Korea's booming shipyards, are built around Cummins diesel engines. Depending on the size of the ship and class requirements, the emergency generator range from the smallest powered by a Cummins 4BT-D(M) models turning a 45 Kw generator through to the Cummins QSK60-D(M) engine producing 2300 HP and powering 1250 to 1,700 Kw generators.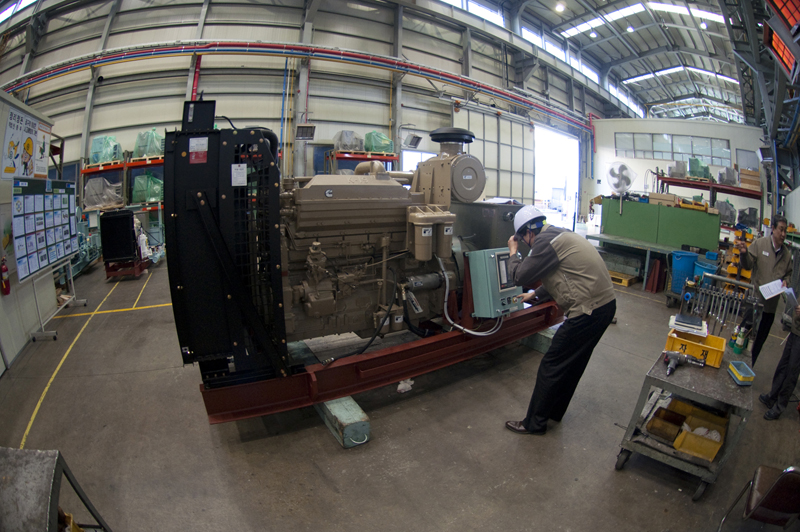 An STX engineer checks a Cummins KTA19-powered 350 kW emergency gen-set destined for a Romanian shipyard. A. Haig-Brown photo
On the first of February this year, STX Engines was shipping a Cummins KTA19-D(M)-powered emergency generator set. It was capable of converting the engine's 620HP at 1800 RPM via an electric generator to 350 to 400kW of electricity to power the vessel's emergency systems.
Emergency generators must be capable of operating independently of any other of a ship's systems. To assure this, engines are fitted with radiator cooling and two independent starting systems. The first of these for the KTA19-powered set on the shop floor at STX recently is a 24-volt battery supplied electric starter. In addition, a back up hydraulic start-system is provided. A hand pump builds pressure in the system so as to effectively utilize human energy to start the engine.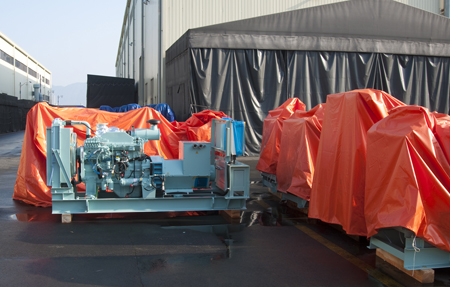 A fleet of Cummins-powered emergency gen-sets ready for shipment from the STX facility in South Korea. A. Haig-Brown photo
While the hope is that none of these engines will be required in an emergency situation, they are all tested to whatever classification society is providing certification for the vessel. It is also routine shipboard practice for the ship's engineers to start and operate these engines for short periods on a routine basis.
In addition to supplying the vast majority of Korean built ships, the STX emergency gen-set division exports a large number of sets to countries around the world. The 350 kW, KTA19-D(M) set on the STX shop floor at the beginning of February was on its way to Romania for installation in a container ship building for Hamburg-based Reederei Claus-Peter Offen (GMBH & CO) at the DMHI (Daewoo Mangalia Heavy Industries Ltd.) Shipyard.
For further information:
Kwen-Hwan HAN
Assistant Manager
Commercial Engine Business Team
STX Engine Co. Ltd.
80 Seongsan-dong, Changwon
Gyeongsangnam-do,
South Korea 641-315
Phone: 82 55 280 0854
Mobile: 82 10 8215 0383
E-mail: [email protected]
Mr. Ben Lee
Marine and High Horsepower Account Leader
Cummins Korea Ltd.
25th Floor, ASEM Tower, 159-1
Samsung-dong, Kangnam-ku
Seoul, 135-798, Korea
Phone: 82 2 3420 0910
Fax: 82 2 3452 4113
Moblie: 82 10 3013 0910
E-mail: [email protected]