Speed, Innovation, Luxury, Fun
Cummins Vessel Reference #801
Vanquish: 14,95 X 4.5-meter.
There was a time when high-quality inboard-powered launches served to take people out to anchored yachts. Then a range of luxury sport boats was built for day cruises. Now, the art and design of day boats has been upped by a factor of ten.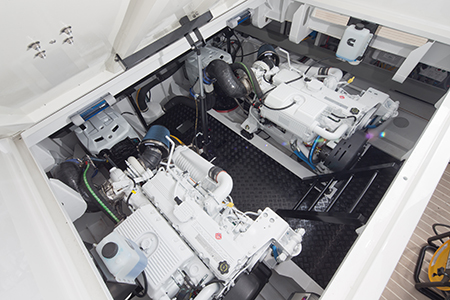 Vanquish: power 2 X Cummins QSC8.3 600 MHP each
The 14.95 by 4.5-meter Vanquish VQ48 is designed for ease of operation with stunning power and acceleration and agility without compromising sea-keeping abilities. Topside the open deck space has seating or reclining spaces for up to 19 people on a variety of settees that simultaneously provide ample storage for water toys. Forward of the helm station an enclosed cabin provides head, V-berths and an efficient galley designed by the Swiss TV chef René Schudel in addition to a barbecue mounted over the water in the aft section.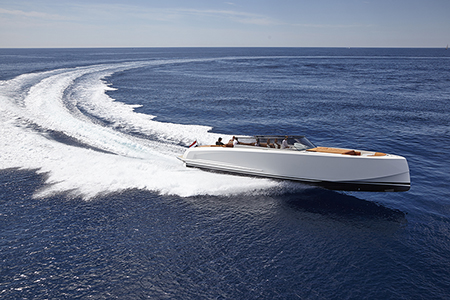 Vanquish.
For the operator and guest alike, the real fun comes when the boat powers up and smoothly accelerates to speeds in excess of 40 knots. The power that pushes the 14-ton weight of this boat was chosen to match the over all quality of the boat. A pair of Cummins QSC8.3 Zeus, each delivering 600 MHP, or the alternative QSM11 Zeus, each of which deliver 715 MHP. With either the 1200 MHP engine set or the 1430 MHP set, this is a spectacularly powerful boat. The engines deliver their power through the Zeus pod drives, chosen for their impressive efficiency and maneuverability at high speed in comparison with conventional propulsion systems.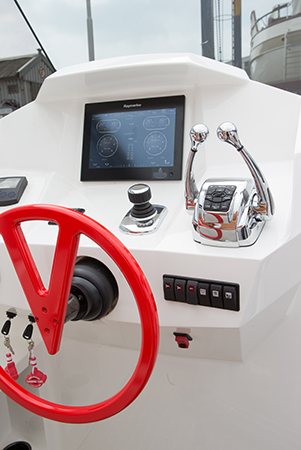 Clean simple controls.
The Vanquish series of yachts are the result the passion for design, speed and luxury that company owner, Dutchman Tom Steentjes, has expressed in a series of boats. All the aluminum vessel hulls have the same underwater design contours with only the length varied. The variation comes in what the firm has done with the available topside space. Tom Steentjes, developed and owned a very successful firm building and supplying commercial food processing equipment. "I take great pride in finding new solutions that buck the trend," he says, "Having seen what can be achieved with aluminum and stainless steel in my company, I became convinced that we could do something refreshingly innovative in the sport boat world. Partnering with like-minded designers, craftsmen and engineers, Vanquish Yachts creates boats for people who share our love of style, design, driving fun and great maneuverability and speed."
Photos courtesy of Vanquish Yachts
For further information:
Vanquish Yachts The Netherlands
Puttenstraat 18,
8281 BP, Genemuiden
The Netherlands
Phone: 31 0 522 700 236
E-mail: [email protected]
Sjoerd Spronck
Communications & Media Coordinator – Europe
Cummins Distribution Europe
Cummins Holland B.V.
Olivijn 800, 3316 KH Dordrecht
Postbus 520, 3300 AM Dordrecht
The Netherlands
Mob: 31 06 110 11 075
Direct: 31 0 78 653 09 27
Tel: 31 078 618 1200
Email: [email protected]
Twitter: @CumminsEurope