S.P. Inter Marine Expands Cargo Handling
Cummins Vessel Reference #729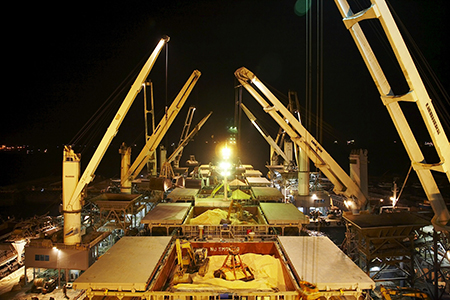 S.P. Inter Marine crane barges off loading a cargo ship.
Long established in the trucking, warehousing, cargo transfer and barging industry of Thailand, S.P. Inter Marine can be described as a broadly horizontally integrated firm. But established success doesn't mean they are sitting still. With an well constructed presence at Ayutthaya, about 80 kilometers up the Chao Phrya River from the Gulf of Thailand; they continue to expand their warehousing capacities for Thai agricultural cargos like tapioca.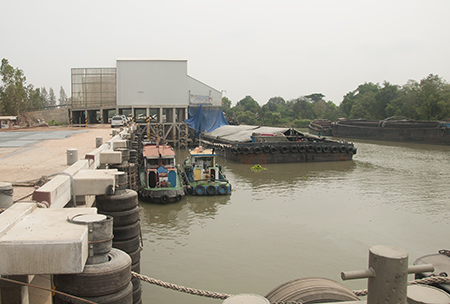 A barge loading at one of the S.P. Inter Marine facilities in Ayutthaya Thailand.

Their barge loading facility can handle a wide range of products from domestic aggregate to export agriculture products. In addition to typical river barges, their fleet includes some larger 60 by 16-meter barges with 3,000-ton capacities. These are typically towed by steel tugs with 600-HP Cummins KTA-19 engines. The barges and tugs are of sufficient size and power to move barges down river to waiting ships in the estuary or along the coast of the Gulf of Thailand.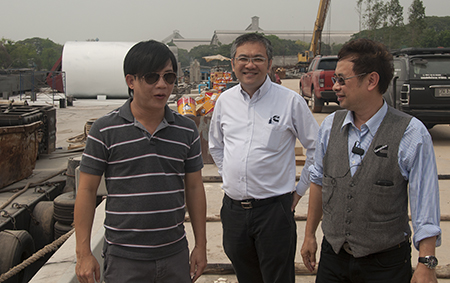 . (l to r) Vorathep Suvajanakorn, Assistant Managing Director, S.P. Inter Marine Co. Ltd., Wee Ming Ku, Manager Regional Marketing, Cummins Asia Pacific Pte. Ltd., and Sathit Suwanprasert, Senior Engineer, Marketing Dept., Cummins DKSH (Thailand) Ltd.
On arrival at the ship, barges are swiftly unloaded directly to the waiting bulkers. With the appropriate logistics support, the barges can often take on fresh import cargos from other vessels for the trip back up river.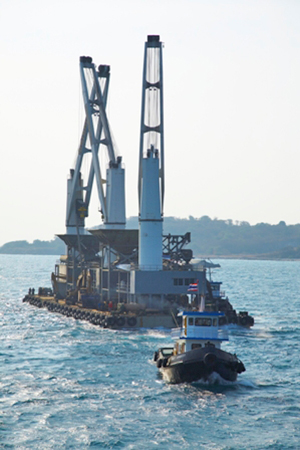 One of S.P. Inter Marine's tugs moving a crane barge into place.
The lightering of cargo to or from barges with ships at anchor in mid-stream represents a significant savings from transfer over a dock. Not only is the transfer done speedily and efficiently, there are further savings in transport of cargos by barge rather than truck or train. S.P. Inter Marine owns six large capacity floating cargo cranes and is in the process of fitting out a seventh floating crane alongside at one of their cargo transfer stations in Ayutthaya. The 70 by 22 by 6-meter barge, built at the company's Ayutthaya shipyard, is being fitted with three 35-ton cranes. Three air-cooled Cummins KTA38- powered generator sets, mounted on the barge deck, will provide power for the cranes' electric motors.
When delivered in June of this year, the new crane barge will joint the company fleet of lightering equipment to move agriculture products from barges to an anchored ship or from ship to barge.
Photo credits: 2&3: Haig-Brown/Cummins, 1&4 courtesy of S.P. Inter Marine.
For further information:
Vorathep Suvajanakorn
Assistant Managing Director
S.P. Inter Marine Co. Ltd.
150/90 Moo 3 Soi Wongsepad Teparak Rd.
Bangpli Yai,
Bangpli, Samutprakarn, 10540
Thailand
Phone: 662 385 5335
Web: www.spintermarine.co.th
E-mail: [email protected]
For Cummins Marine engines in Thailand:
Sathit Suwanprasert
Senior Engineer, Marketing Dept.
Cummins DKSH (Thailand) Limited?
Phone: 66 23017500 | Extension: 7540 ?
Mobile: 081 913 6599?
Fax: 02 3330995
E-mail: [email protected]
For more information on Cummins in Southeast Asia
Ku Wee Ming
Manager, Regional Marketing
Cummins Asia Pacific Pte. Ltd.
No. 8, Tanjong Penjuru, Singapore 609019
Office Phone: 65 6265 0155
E-mail: [email protected]