South American Operator Re-Powers with Cummins
Cummins Vessel Reference #676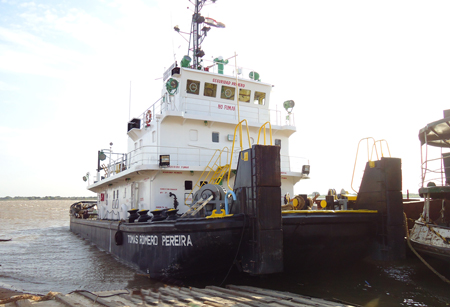 The Tomas Romero Pereira ready for sea trials.
Navios South American Logistics Inc. (http://www.navioslogistics.com), is a leader in river transportation on the Inland Water Ways (IWW) of the Paraguay-Paraná Rivers. With a fleet of more than 250 barges and 20 well equipped push-boats on the river, the firm also operates sea-going product tankers. Recently they have repowered the first of their push boats, the 30 by 9.5 by 2.7-meter Tomas Romero Pereira, in Paraguay at the Shipyard Aguapé of Asunción city.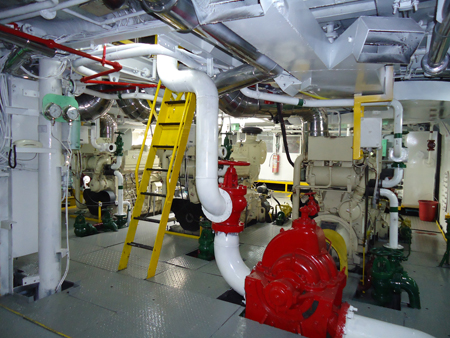 The port engine with a 250 cubic meter per hour fi-fi pump on the front PTO.
The IWW Paraná-Paraguay is the most important waterway in South America after the Amazon river system. Serving four nations, more than 15 million tons of bulk, general, and liquid cargo are shipped by barge to or from Argentina, Brazil, Paraguay and Uruguay. There are more than 1700 barges on the IWW and nearly 150 workboats including both push-boats and tugboats.
The pushboat Tomas Romero Pereira's three Yanmar mains and three auxiliaries were replaced with three Cummins KTA19 M3 engines with a total output of 1590 HP. Each engine into Twin Disc 516 gears with 3.96: 1 reduction. These then turn 4 blade 960 x 1248-m/m propellers in ducted nozzles.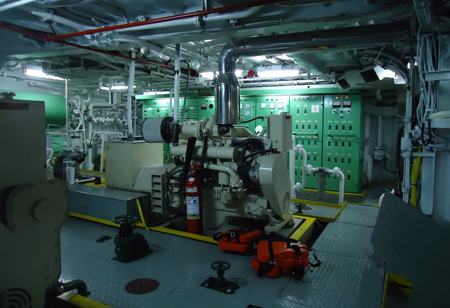 One of the new Cummins-powered generator sets.
The towboat's electric power is provided by a pair of Cummins 6C CP-powered generators each producing 136 kW, 50 Hz. Sea trials on the updated vessel were successfully carried out in September 2012.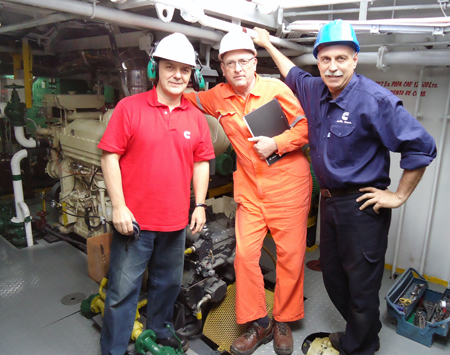 Three that worked on the project include (l to r) Cummins Marine Application Engineer Armando Tavarozzi, Naval Architect Federico Hennings and Mr Adrian Muñiz, Cummins Marine dealer.
Photos courtesy of Cummins Marine
For more information:

Compañía Naviera Horamar (Navios South American Logistic Inc.)
Eng. Roberto A. Petrozzino
Technical Manager
Av. Santa Fé 846 2° piso – 1059
Buenos Aires – Argentina
Phone: 54 1 4891 7740
Estudio FNH
Ing. Naval Federico Hennings
Av. Rivadavia 6051 3° piso – 1406
Buenos Aires – Argentina
Phone: 54 11 4632 4991
Armando Tavarozzi
Marine Application Engineer
Phone: 54 11 4736 6428
E-mail: [email protected]
Olmedo Farfan
Cummins Marine
HHP Marine Business
Marine Regional Leader – Latin America
Phone: 843 745 1581
Mobile: 843 298 4580
E-mail: [email protected]