Sophisticated New Trawler from Danish Yard
Cummins Vessel Reference #815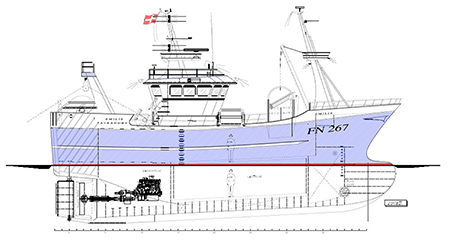 Profile of the new trawler.
Centrally located near the top of Denmark, the Jobi Yard has a skilled crew capable of carrying out work in wood, fiberglass, aluminum or steel. Whether for repair and maintenance or new construction, Jobi Yard has a reputation of quality and Danish reliability.
When fishing skipper Ejner Klitlund and his son Rasmus Klitlund decided on a new fishing boat, it was natural that they approach Jobi Yard. With a design by Danish naval architect Vestværftet A/S of Hvidesand, they had the hull built in Poland. The completed 23.75 by 7.4-meter hull will be delivered to Denmark in August of this year and outfitted at the Jobi Yard. With a molded depth of just over six meters, there is ample space for two decks within the hull.





A full suite of Cummins engines ready for delivery from Granby Diesel to the Jobi Shipyard.
Designed as a trawler, the new vessel will be outfitted to operate with a crew of three. Supplied by Denmark's Granly Diesel, a single Cummins QSK19-M main engine, generating 750 HP at 1800 RPM, will provide towing power. The main engine will turn a 2200 m/m diameter controllable pitch propeller through Mekanord 430-2HS marine gear with servo for the CP propeller and a deep 9.14:1 reduction. The CP propeller will be a type Korsør CP21-R. The sophisticated propulsion system will generate a bollard pull in excess of 14 tons and a free running speed of ten knots.
Auxiliary power for the trawl winch hydraulic, deck crane and other requirements as well as for electrical power will be provided by a pair of Cummins 6BT5.9 DM/UCM274 E1-powered 80 Kwe at 50 Hz generator sets.
To be named the Emilie, the new boat is scheduled for delivery to her owners in the first quarter of 2018.
For further information:
Jesper Faurholt Jensen,
CEO
Jobi Værft A/S
Værftskaj 2
9970 Strandby
Phone: 45 9644 4496
E-mail: [email protected]
Morgens Lund Sales and Application Engineer
Granby Diesel A/S
Cummins Distributor Denmark
Phone: 45 4642 3550
Direct: 45 7611 4934
Cell: 45 2138 3945
Fax: 45 7612 5036
Mail: [email protected]
Web: www.granlydiesel.com