Smaller Operators Excel In Polish Shipyards
Cummins Vessel Reference #699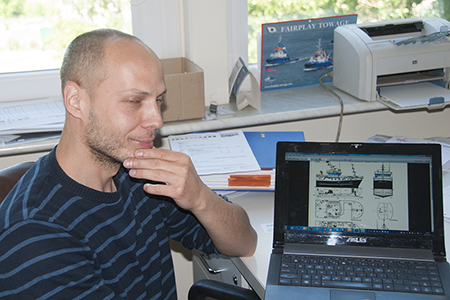 Piotr Smolag reviews the design drawing for the new vessel. Haig-Brown photo
The huge yellow gantry cranes, cavernous sheds and slipways of the Szczecin Shipyard dominate the Port of Szczecin. At one time 10,000 workers toiled to built as many as 21 deep-sea ships per year in this sprawling edifice. Today only a fraction of that number, perhaps 1500, work for a diverse group of small independent marine companies who lease space in the shuttered shipyard. Where the huge state-owned corporation was unable to make the transition to EU membership and the global economy, these small independent contractors are gaining a reputation for cost effective and quality maritime work.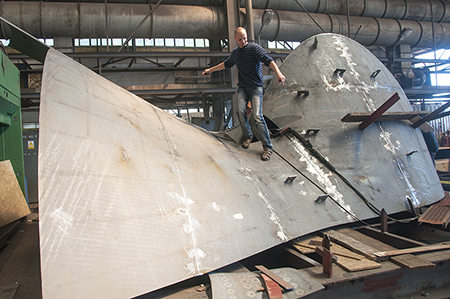 The bow section is ready to join the forward hull section. Haig-Brown photo
One of these independent firms is Shiprepairs.pl Ltd. (www.shiprepairs.pl) Technical Manager Piotr Smolag explained that the firm is winning repeated contracts with Norwegian customers for modifications to fishing vessels as well as new builds. In June of this year they were in the midst of a complex reconfiguration of the fish-holds on an 86-meter dragger/processor. They were reducing the number and volume of the fish-holds in favour of a smaller number of RSW and forced cold air holds. This would make more cargo-space for the processed frozen product. While this work was being done at their associated location at Swinoujscie on the Baltic (www.poltramp.pl) they were building a new steel catamaran and a 20.99 by 8.5-meter long liner at their yard on leased space in Szczecin.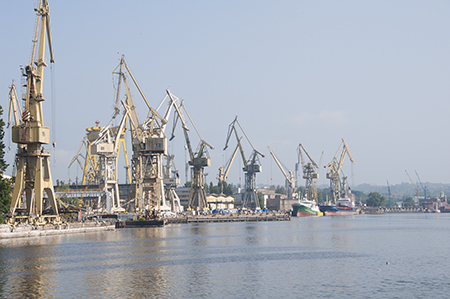 A part of the massive Szczecin Shipyard facility in Poland. Haig-Brown photo
In one of the sheds the fish boat's bulbous bow section with fresh water tank had been fabricated and was ready to be attached to the forward section taking shape in on open space outside. Working from a design by a Norwegian naval architect, Smolag's crew is in the process of fabricating several hull modules that will be assembled to give the vessel a molded depth of 4.1 meters from the main deck and 6.425 meters from the top of shelter deck. A total of 170 cubic meters of freezer-hold would be located forward in the hull.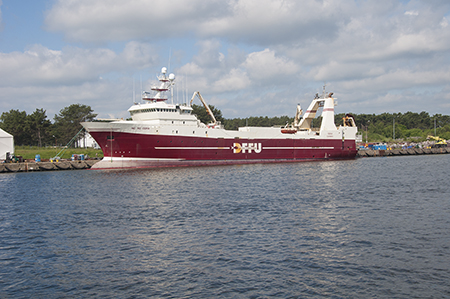 The trawler Odra along side for modifications in Swinoujscie. Haig-Brown photo
The engine room is set well aft. A keel-cooled Cummins K38-M main engine generates 746 kW (1000 HP) Continuous Duty at 1800 RPM. The IMO Tier II and EPA Tier 2 compliant engine turns a gear, shaft and controllable pitch 2.2-meter propeller. The Norwegian gear manufacturer Heimdal will supply the gear-to-prop propulsion system components. (http://www.heimdalprop.com/).
Electrical power for the freezing equipment and other uses, such as the 150 hp electric bow thruster will be provided by two Cummins QSM11-powered generator sets delivering 248 kW of 60 hz-power each. Commenting on this project and other complex work completed by the firm, Piotr Smolag, explained that "We have expertise in both aluminum and steel fabrication of the highest quality and routinely do work for discerning customers that is competitive in both cost and quality. We take pride in finishing our sophisticated vessels to the highest international standards."
For further information:
Piotr Smolag
Director/Technical Manager
Shiprepairs.pl Ltd.
Poltramp Shipyard, Ltd.
71-637 Szczecin, Firlika St. 20
Poland
Phone: 48 502 833 263
E-mail: [email protected]
Web: www.shiprepairs.pl
Piotr Jacewicz
Regional Sales Manager
Cummins Ltd. Sp. z o.o. Oddzial w Polsce
Ul. Galakyczna 37
80-298 Gdansk
Poland
Phone: 48 58 762 91 55
Mobile: 48 666 826 398
Email: [email protected]