Sister for Successful Argentine Trawler
Cummins Vessel Reference #611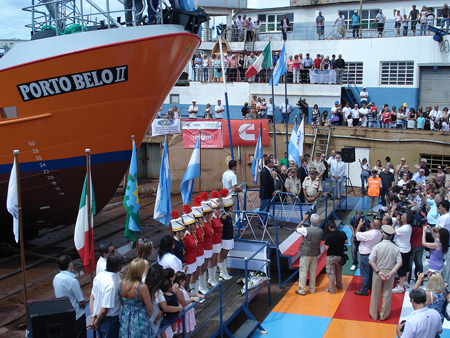 Dignataries attending the launch of the Port Belo II
No doubt the truest testament to the success of a vessel is the building of a sister ship. That has recently been demonstrated by the owners of the Porto Belo I that was launched in May of 2008. (Cummins Hotips#504) The company, Maritima MDQ S.A., returned to the same builder, Astillero Naval Federico Contessi y Cia, SA, for a sister ship which was launched January 8, 2011. Both vessels were built to a design owned by the shipyard.
The 23.98 by 6.7-meter Porto Belo II has a 125 cubic meter fish hold capacity and tankage for 30,700 liters of fuel and 15,500 liters of potable water. Accommodation is provided for up to ten crew in four bunk rooms with the skippers room aft of the wheelhouse and the balance in the aft hull.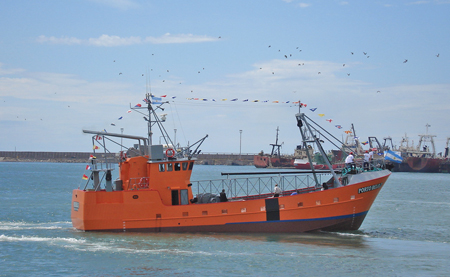 The Porto Belo feels the sea for the first time.
Power is provided by a single six-cylinder Cummins KTA19M3 engine generating 600 HP (447 kW) at 1800 RPM which turns a nozzled propeller through a Twin Disc reduction gear. This arrangement gives the vessel a 9.5-knot design speed when running light and up to 3.5 knots when towing a trawl.
Auxiliary power is provided by a Cummins 6CTA 8.3 G2 and a 4BTA 3.9 G4 engines.
Above photos courtesy of Cummins Argentina
For further information:
Domingo Contesssi
Astillero Naval Federico Contessi Y CIA SA
Calle B, Espigon 4, Puerto
B 7603HPA Mar del Plata
República Argentina
Phone: 0223 480 0550
E-mail: [email protected]
Armando Tavarozzi
Marine Application Engineer
Distribuidora Cummins Argentina
Phone: 54 11 4736 6428
Fax: 54 11 4736 6466
Cell: 549 11 3280 8713
E-mail: [email protected]
Olmedo Farfan
Marine Application Engineer
Cummins Inc. – Marine Business
4500 Leeds Ave
Charleston, SC 29405
Office: 843 745 1581
Mobile: 843 298 4580
E-mail: [email protected]
Muniz Hnos
Napoles 6392 (7600)
Localidad: Mar del Plata
Phone: 0223 4820904 | 0223 4820904
E-mail: [email protected]